NFL Draft 2019: Early look at top five WRs, top three TEs
It's never too early to start looking ahead toward the next NFL Draft. So we'll offer a quick glance at who currently would be the top players chosen, position-by-position over the next two weeks. Today, we look at the wide receivers and tight ends.
MORE ON THE 2019 NFL DRAFT: Top 5 QBs | Top 5 RBs
CLASS OF 2019 RANKINGS: Rivals250 | State | Position | Team
WIDE RECEIVERS
1. A.J. Brown , Ole Miss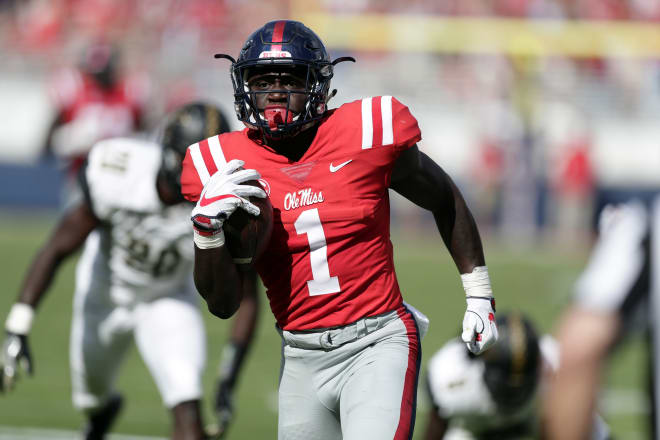 Recruiting: A high four-star prospect from Mississippi State's hometown of Starkville, Miss., Brown committed to Ole Miss over the Bulldogs and Alabama on National Signing Day.
Stats: Brown led the Rebels by a wide margin with 75 catches for 1,252 yards and 11 touchdowns while averaging more than 104 receiving yards per game last season.
Farrell's take: Brown had a breakout season, for sure. He was a big and thick receiver with great physical skills coming out of high school. He was our No. 9 wide receiver and No. 53 player overall in our 2016 Rivals100 and there were some internal arguments that he should have been ranked higher. At Under Armour week, he was one of our top performers all week, showing excellent hands and a great ability to make big catches in traffic. He may be the most complete receiver in the country when you consider his size and power, and is my clear No. 1 at wide receiver for April's draft.

2. N'Keal Harry, Arizona State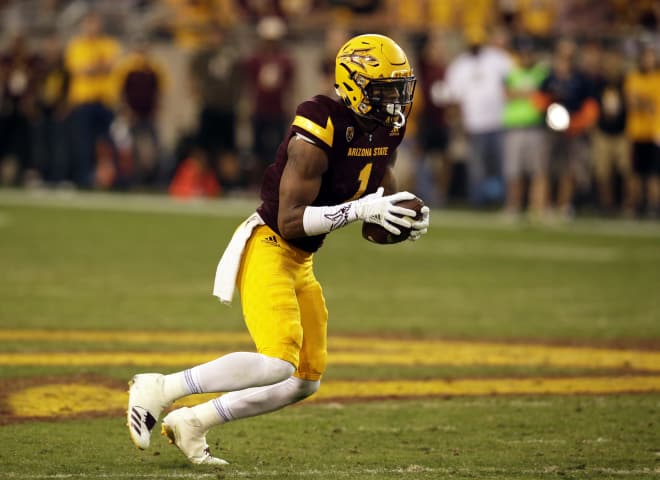 Recruiting: In November of his senior season, Harry committed to Arizona State over Texas A&M, Washington and others.
Stats: Harry led the Sun Devils with 82 catches for 1,142 yards and eight touchdowns while averaging nearly 14 yards per reception.
Farrell's take: The first time I saw Harry at one of our Rivals Camp Series events in Vegas I knew he was a five-star. He was big, strong and very fluid, and he had an extra gear rare for a 200-pound high school receiver, which allowed him to gain great separation. The No. 1 wideout in the 2016 class, he has adjusted to college very early and one can only imagine the numbers he would have at Arizona State with an above-average quarterback.

3. Deebo Samuel, South Carolina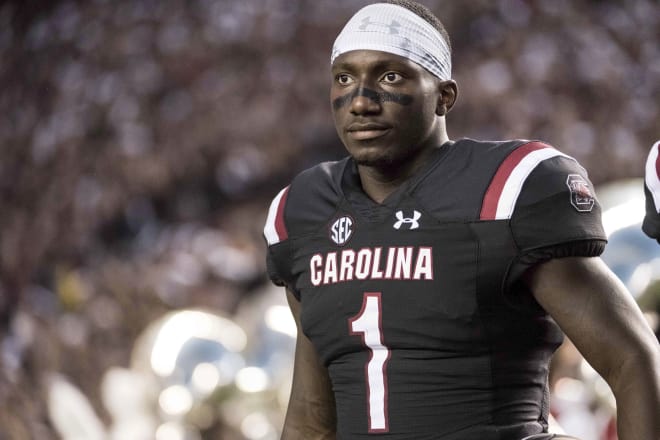 Recruiting: After an impressive showing at summer camp and a big senior season, Samuel earned an offer from South Carolina and quickly committed to the Gamecocks. North Carolina, NC State, Vanderbilt and others were in the mix.
Stats: Samuel played in only three games last season, finishing with 15 catches for 250 yards and three scores averaging more than 16 yards per catch. He broke his leg in South Carolina's loss to Kentucky.
Farrell's take: Samuel was a burner out of high school who didn't have great size, but had that extra gear to beat anyone he needed. Its unclear why he wasn't recruited a bit heavier and we certainly underrated him as a high three-star. He showed excellent route-running ability as well as reliable hands and excelled at the Shrine Bowl of the Carolinas, where he probably should have earned that fourth star.

4. Marquise Brown, Oklahoma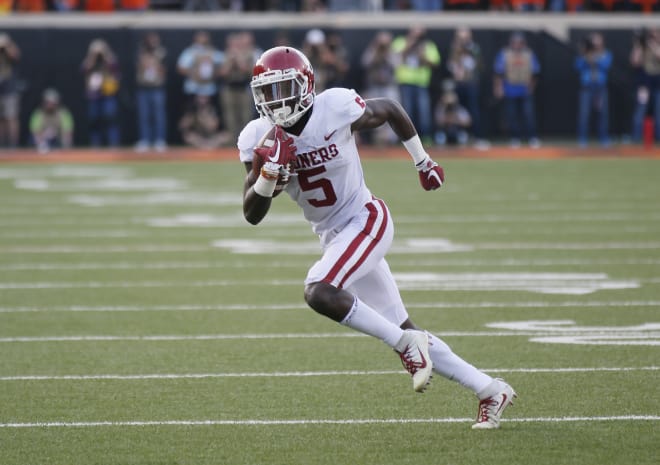 Recruiting: After playing at Santa Clarita (Calif.) College of the Canyons, Brown picked Oklahoma mainly over West Virginia, but TCU, Tennessee, USC and others were also involved.
Stats: Brown led the Sooners with 1,095 receiving yards on 57 catches and seven touchdowns (tied for second on the team behind TE Mark Andrews). He averaged more than 19 yards per reception.
Farrell's take: Size was a question mark when it comes to Brown, but not much else as he had the speed and home run potential to be a star after dominating at the JUCO level. A slot receiver with catch-and-run speed, we liked Brown as an instant impact guy for the Sooners. His quickness was evident, and he has added a good 20 pounds from his high school days, when he was a 5-foot-10, 155-pounder on a bad high school team. Size might hold him back, but I think he has a year that will keep him up near the top here.

5. Stanley Morgan Jr., Nebraska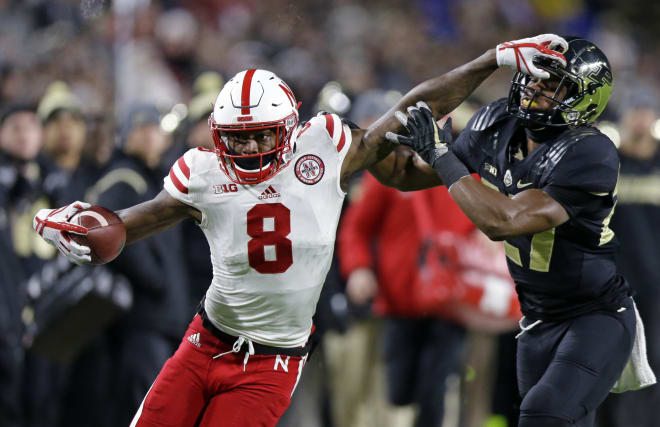 Recruiting: In November of his senior season, Morgan committed to Nebraska over Clemson, Georgia, Florida, UCLA and others. He had taken an official visit to Lincoln in September of that year.
Stats: Morgan led the Huskers last season with 61 receptions for 986 yards and 10 touchdowns while averaging more than 16 yards per catch.
Farrell's take: The Wide Receiver MVP battle our New Orleans Rivals camp between Morgan Jr. and Tyron Johnson is still something I remember. Johnson got the nod, but Morgan showed us he had arguably the best hands in the 2015 class. He had adequate size, adequate speed but his body control and ability to come down with everything made him a four-star, and scouts will be wowed by those ball skills this season and beyond.

TIGHT ENDS
1. Noah Fant, Iowa
Recruiting: Fant committed to Iowa in August before his senior season. Nebraska and Minnesota remained contenders in his recruitment, but close to signing day Fant shut his recruitment down.
Stats: Fant was second on the team in catches and receiving yards with 30 receptions for 494 yards, and he led the Hawkeyes with 11 touchdowns. He averaged more than 16 yards per catch.
Farrell's take: Fant was a high three-star coming out, with good size and length and a great frame to build on, but there were questions about his explosiveness. He has proven that's not a problem as he emerged as the No. 1 tight end early in the process while showing good hands, excellent field presence and downfield speed. This is a touchdown machine at the tight end position.

2. Caleb Wilson, UCLA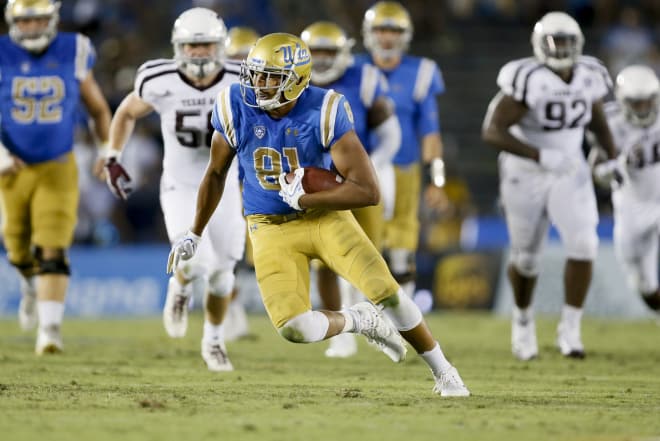 Recruiting: Wilson was rated as a two-star quarterback in high school and then walked-on as a tight end at USC. After one season, Wilson transferred to UCLA. Old Dominion and others had offered him out of high school.
Stats: Wilson played in five games last season and had 38 catches for 490 yards and one touchdown. He missed the remainder of the season with a foot injury.
Farrell's take: Talk about an interesting route to stardom, huh? His dad was the defensive line coach at USC and he had no big offers as a quarterback, so he headed to become a Trojan. His transfer across town is rare and his knowledge as a former quarterback has helped him greatly. He's a tall and versatile target who wasn't high on many boards coming in, but he rose early in the season. Missing much of last season hurt, so this is a big year for him.
3. Kaden Smith, Stanford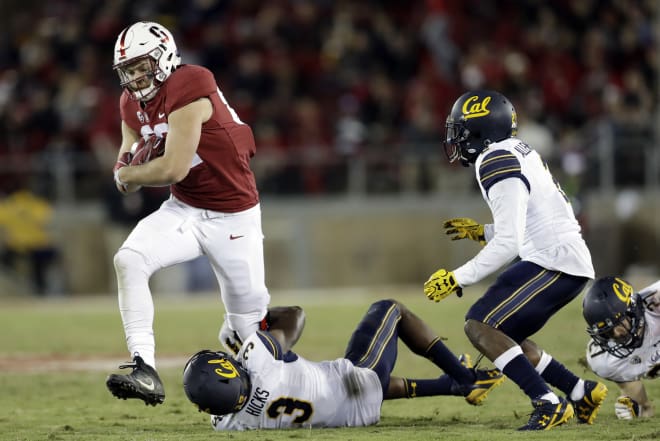 Recruiting: The first player Stanford offered in the 2016 class, Smith committed to the Cardinal in the spring before his senior season over Alabama, Texas, Baylor and others.
Stats: Smith finished with 23 receptions for 414 yards and five touchdowns last season while averaging 18 yards per catch.
Farrell's take: Smith had elite pass-catching skills coming out of high school, and could work outside or inside and stretch the field. He had good hands, was fluid as an athlete and he showed last year he can be a downfield threat. He could move up on this board easily.