NextGen Georgia stars shine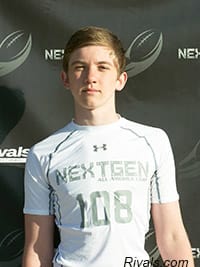 In recruiting circles they are referred to as the Big Five. The Big Five are the five states that represent nearly 40 percent of all FBS football scholarships. Because California, Florida, Georgia, Ohio and Texas produce so many FBS players, they are must stops for NextGen's All America Showcase Camp.
The first stop on the Big Five tour was Saturday in Georgia. The Georgia showcase drew athletes from nearby Alabama, Tennessee, Mississippi, North Carolina and Kentucky. Even more impressive was Zaire Jackson who traveled from Colorado to compete. Zaire's father, Willie, felt it was a "great opportunity to compete against great competition."
"Before arriving in Georgia we had already heard about the legendary skills of
Owen Pappoe
and
KJ Wallace
," said NextGen founder and former NFLer
Brent Williams
. "We knew those kids already had profiles in the Rivals.com recruiting database, so we were just excited that they decided to come out and compete."
Because of their popularity, NextGen's staff did some different things with Pappoe and Wallace.
"We had our camera crew follow them closely, to give more of a behind-the-scenes look at our showcase, from their perspectives," Williams said.
Pappoe worked at linebacker and spent time with former NFL standout and pass rush specialist Chuck Smith at defensive end to showcase his pass rush skills. Wallace worked exclusively at receiver during the day.
Pappoe, 6-foot-1 and 190 pounds, posted a NextGen-best 4.64 40-yard dash, and finished in the top five of the pro-shuttle and the L-drill. Wallace, meanwhile, ran a 4.69, with a combine-best 2.6 flat 20-yard split. As impressive as the two high-profile athletes were in the combine, they exceeded expectations in their respective position drills.
Pappoe's athleticism allowed him to put in solid performances during one-on-one cover drills against the running backs, but it was his time rushing the passer that caught the evaluators' eyes. His explosive first step and leverage made him unblockable against a strong offensive line group.
As for Wallace, Williams had high praise for the young receiver.
"This is our third stop on our search, and I find it hard to believe that we will see a more impressive receiver than KJ Wallace," he said. "He is a polished receiver that runs routes well beyond his years. He caught every ball that came near him. Wallace explodes out of his cuts and competes for every ball."
Here is a closer look at the event:
Impressive young talent
The talent pool was deep at every grade at the Georgia showcase. Sixth-graders Kaseem Vauls (defensive tackle) and Andrew Van Wie (quarterback) had impressive showings - but it was wide receiver Javonte Graves-Billips that stole the day with several impressive catches. Graves-Billips' development will be fun to watch over the next few years.
Combine records fall
Pappoe's 40-yard dash time was the best posted at a NextGen Showcase, Wallace's 20-yard split tied the best time set by
Sharmar Edwards
at the New Jersey showcase. Eighth-grader Jalen Alexander's 4.19 pro shuttle was also a NextGen record, while the most impressive record came from 2019 defensive line prospect
Nolan Smith
who posted a 4.27 L-drill time on the way to finishing in the top five of the four running and jumping events.
In addition to the combine records falling, there are a record number of athletes from the Georgia event that will receive profiles. There will be 16 athletes joining Pappoe and Wallace in the Rivals.com recruiting database.
Offensive line
Class of 2020 prospect
Bryan Tucker
traveled from Tennessee to compete. At 6-foot-4 and 265 pounds Tucker has long arms and good feet. Eighth-grader
Quentin Skinner
, a 6-foot, 245-pound C/G prospect is "one of the most advanced offensive linemen we have seen," Williams said.
He has incredibly quick feet and hands and plays with great leverage. He's very strong as well, finishing near the top of the 30-second push-up test (44).
Nicholas Rowan
(2019) was the best along the offensive line by far. The 6-foot-1, 277-pound guard prospect dominated one-on-one drills and offensive line evaluators called him "the total package." He was so impressive in competitive drills the defensive line coaches also expressed how tough he was to beat. There were several other offensive line prospects that fell just short of receiving a profile - as this was the strongest group evaluated since the tour began.
Defensive line
Two defensive linemen made strong impressions on the evaluating staff, as
Tyler Roach
(2020) and the aforementioned Nolan Smith (2019) earned their respective ways into the Rivals database. Roach at 5-foot-10 and 195 pounds is quick (4.66 shuttle) and a relentless rusher that uses his hands very well. At 6-foot-1 and 190 pounds, Smith's combine numbers turned a lot of heads, but it was his speed rushes that repeatedly turned the heads of the opposing offensive tackles.
"I do my homework before every event," Williams said. "I feel it's important to know who some of the guys are before we evaluate them, but I had never heard of Nolan Smith before today. This is why we do these events - to find kids like Nolan."
His record-setting pro-shuttle and finishing second overall (4.66) in the 40-yard dash were only the start of his strong performance. He was able to use his incredible athleticism in the football drill evaluations and he displayed an incredible fire and competitiveness that made him the stand out among an impressive group.
Linebackers and defensive backs
The linebacker group had several strong candidates looking to join Pappoe in the Rivals.com database. Class of 2019 LB prospect
Kenny Edwards
(5-foot-10, 170 pounds) will receive a profile. NextGen's lead linebacker evaluator, Florida State grad/former New England Patriot
Vernon Crawford
felt Edwards had all the tools. His 4.69 40-yard dash and 4.31 pro shuttle were among the day's best performances. He demonstrated great understanding of angles during pursuit drills and covered running backs extremely well.
Although he lined up as a safety and covered as a corner,
Jaylen McCullough
(6-foot, 175 pounds) may end up growing into a linebacker. His physical coverage and aggressiveness lends well to a future at linebacker. McCollough, a 2019 athlete, has a long frame and looks to have room and the time to grow.
Antoine Davis Jr.
(5-foot-8, 141 pounds) is a true cover corner, demonstrating great closing speed.
Running backs & wide receivers
The Georgia running back group will have three additions to the Rivals.com database. 2019 prospects
Lance Wise
(5-foot-7, 160 pounds) and
Jeremy Smith
(6-foot, 165 pounds) were impressive during all phases of the NextGen Showcase. Both ran sub-5-flat 40-yard dashes posting 4.69 and 4.8 respectively. And each showed great change of direction speed in the pro shuttle - with Wise running 4.38 and Smith posting a 4.41. These impressive times came in handy during the one-on-one battles.
The third running back selected is
Michael Robertson
(2020), a prospect that looks and plays well beyond his years. At 5-foot-11 and 165 pounds he is a rangy athlete with exceptional body control for his age. Furthermore, he catches like a receiver but already has the frame of a high school running back. He is the nephew of 2016 five-star athlete
Demetris Robertson
.
Wide Receiver
Jalen Roach
will join Wallace in the database. Roach is a 5-foot-9, 140-pound 2019 prospect that consistently separated himself from tight coverage. He was very competitive and battled for the ball. He was the receiver that ignited a comeback during the featured Battle Event against the defensive backs.
Quarterbacks
Class of 2020 quarterback
Harrison Bailey
is the best prospect to attend a NextGen event thus far. At 6-foot-3 and 170 pounds, Bailey has the height and projects to have the size of an FBS quarterback. He has a strong arm and was very accurate. He understands touch, and knows how to throw catchable balls. A rangy athlete he also caught the evaluators' attention with a 5-flat 40-yard dash.
Jones is an eighth-grader that can spin the ball. The southpaw threw the deep ball extremely well and displayed great body control throwing on the move both left and right.
The last addition from Georgia is 2020 quarterback
Max Johnson
, son of former NFLer
Brad Johnson
. Standing just under 6-foot and weighing 140 pounds, Johnson had a strong performance throughout the day. But it was during the showcase one-on-ones when Johnson shined brightest.
Summary
Many coaches and recruiting experts believe that the 2019 class in the state of Georgia will be the country's strongest group. The 2019 athletes have a very bright future, however as good as the 2019 class may be, the 2020 class has the potential to surpass it. So the future looks very bright in the Peach State.
"I am really excited that our tour lined up this way," said Williams, as NextGen now moves to Texas. "We will have fresh impressions from Georgia when we go to Texas and then onto Ohio. It's a great opportunity to compare three of the Big Five back to back.
"These are exciting times for NextGen. We unveiled our new Under Armour gear in Georgia and we are having a blast working with these incredible young athletes. The Next Generation of football looks really good."