New offer for Nebraska OL commit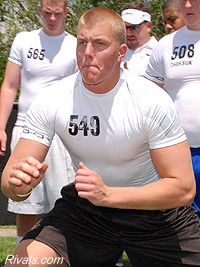 The talented trenchman talked about the latest in his recruitment in an exclusive interview with Rivals.com following the Boulder NIKE Camp Saturday afternoon on the campus of the University of Colorado.
Texas offered Givens a scholarship earlier this week.
So what changed?
"(Texas) told me that some spots had opened up because they had lost two guys at my position."
Givens' relationship with Brewster, along with his earlier interest in the Horns, has Texas in the running, but his commitment to Nebraska remains strong.
"I'm going to take a visit (to Texas)," Givens said. "I can't really say anything about what I may do. Who knows? As of right now, I am awfully committed to Nebraska, though."
Givens, who reiterated to other reporters at the event that he was firm to Nebraska and that Texas would have to impress him seriously to change his mind did not have a date for an official or unofficial visit to Austin scheduled.
"It was an excellent camp," Givens said. "I had no idea who (Mobley) was when I came in here. I mean I knew who he was, but didn't know what he looked like. I have a lot of respect for him after today. It just shows that I can go up against great players."