New England TE heads south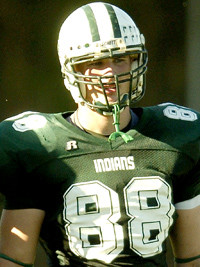 Dartmouth, Massachusetts tight end
Arthur Fontaine
has made his college decision and this time he does not expect to change his mind. The 6-foot-5, 240-pound prospect is confident in his choice and ready to move forward.
Fontaine had previously been committed to Boston College before opening the recruiting process back up to check out more options. Where will he be spending his college years?
"I committed to Georgia," Fontaine said. "It was a hard decision. It came down to Georgia and BC, as well as Virginia and Maryland. In the end it became mostly about getting away to experience college away from home. It's about growing up and becoming an adult and experiencing new things."
Fontaine's mother and sister attended Boston College, but the four-star prospect said the opportunity to forge a new path for himself and experience life in a different part of the country was very attractive to him.
"I like Georgia a lot," he explained. "The coaches are great. Coach
John Lilly
was my recruiting coach and I really like Coach Richt. I took two visits down there. I felt very comfortable and the second visit was even better than the first visit. That's why I went a second time -- to see if I had that same feeling.
"I fit in well with what they want to do offensively, but this was more about the college experience than football."
Though he is moving in another direction, Fontaine had nothing but positive things to say about the other schools recruiting him.
"I love BC," he said. "I know I could be successful in that offense as well. I wish them well and I hope they continue their success. I like all the coaches that recruited me. I liked Maryland and Virginia as well. I could have been successful at all four. It doesn't have anything to do with tight end tradition or anything like that. This wasn't as much a football decision as it was a college decision."
Fontaine's mother, sister and grandfather are on board with his decision and Fontaine expects to stay solid this time. He had previously committed to Boston College but de-committed shortly after when he realized he rushed his decision. He is ranked as the No. 4 tight end in the nation and is a member of the Rivals250.
As a junior Fontaine caught 10 passes for 160 yards and two touchdowns while recording 63 tackles and four sacks on defense. With a different offensive approach this season, those numbers should increase.
"We're going to throw the ball around a lot more," he said. "So that's a good thing. I'm looking forward to my senior season now that this decision is behind me."
Fontaine becomes Georgia's 13th commitment but just the fourth from outside the Peach State.