New 2020 State Rankings: Southeast Region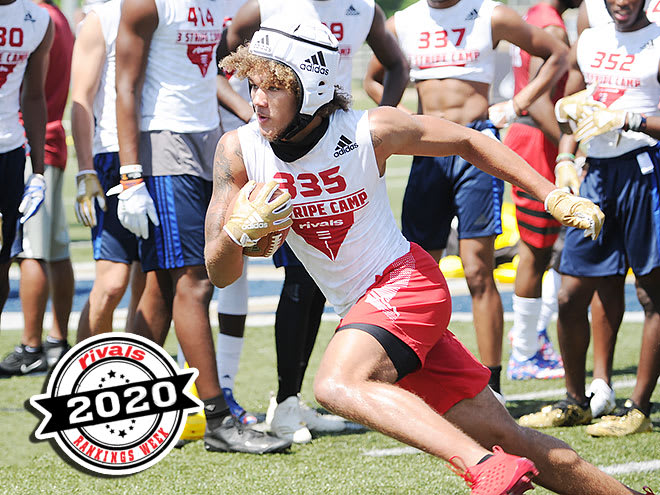 Crimson Tide off to a fast start in home state 
Alabama is rolling in 2020 and the Tide are off to a hot start in the Yellowhammer State. The Crimson Tide have three commitments already, two from their home state and there will be more. Wide receiver Dazalin Worsham is a Rivals100 prospect, and linebacker Jackson Bratton is in the Rivals250. Worsham's teammate, Malachi Moore, was recently offered and he is a major cornerback target. Defensive tackle Jayson Jones plans to commit July 4 and he is down to Alabama and Georgia. Running back Roydell Williams and linebacker Quandarrius Robinson are two others in the top 10 that have the Crimson Tide on their mind. It looks like Nick Saban and his staff could do very well once again with in-state prospects in 2020.

Will the Hintons stay together? 
Christopher Hinton is a five-star defensive end in the 2019 class that is committed to Michigan. So will Myles Hinton follow? Myles is a five-star offensive tackle in the 2020 class with offers from schools from coast to coast, but some feel the Wolverines hold the inside track. The family is very close, but the younger Hinton plans to make his own decision. Stanford is another school to keep a close eye on early, but unlike his brother, Myles plans to take his recruitment into his senior year. The Hinton brothers are both five-star prospects on Rivals.com, so will they stay together on the next level? That will be something to watch over the next year and a half.
Can anyone catch up to Jackson in Mississippi?
McKinnley Jackson is a five-star defensive tackle, and there is not even another Mississippi prospect in the Rivals100 at this time. It is early, very early, but it looks like it will be hard for anyone to knock him off the top at this time. In Mississippi, there are new names that pop up all the time, so we will definitely identify many more talented 2020 prospects over the next year, but the one-time LSU commit has a firm grip on the top spot in his state. Jackson will be competing at the Rivals100 Five-Star Challenge soon, so he will have a chance to compete on a big stage against some of the best in the country.
Banner year in Tennessee 
Observers of football in the state of Tennessee have been pointing to the Class of 2020 as a great year for talent and the initial rankings for the class seem to show the same thing. The state currently has six players in the Rivals100, compared to just four in the Class of 2019. The group, led by Memphis offensive lineman Chris Morris, is also relatively bunched together, meaning there will likely be plenty of changes as we get more evaluations in the future. Either way, the class already has 25 ranked players, all of which project as Power Five players. The special group of talent could mean big years for in-state schools Tennessee and Vanderbilt.
Defensive linemen lead the way in South Carolina  
It seems like every year the state of South Carolina is loaded with defensive line talent, but a trio of prospects in 2020 highlight the state's talent. Led by Clemson commit Demonte Capehart and followed by four-stars Jordan Burch and Tonka Hemingway, the state that produced Jadeveon Clowney will once again be a battleground for top programs looking for defensive linemen. Capehart ended his recruitment very early and has said he has no plans to look around, while Burch and Hemingway also keep a pretty low profile. It will be interesting to see if programs like Georgia, Oregon and others that have already offered the pair will be able to penetrate the state of if they will end up staying close to home with the Tigers or Gamecocks.
RIVALS RANKINGS WEEK