Nebraska lands commitment from Texas speedster Roger Gradney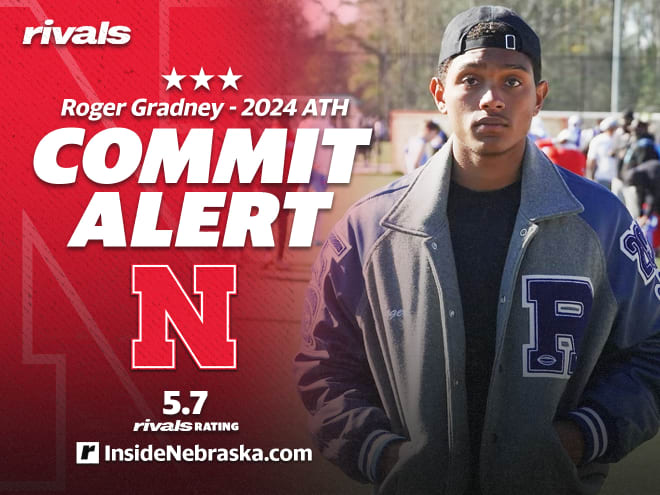 Altair (Texas) Rice Consolidated athlete Roger Gradney, one of the fastest prospects in the state of Texas, has announced his commitment to Nebraska.
Gradney landed the offer on Sunday afternoon and made the quick decision to lock down his recruitment based on the early conversations he had with secondary coach Evan Cooper and Director of Player Personnel Omar Hales.
"I'm committing to Nebraska because I love the energy the coaches give," Gradney said. "I love how they want to build a relationship with the players. They want you for your personality and they want to get to know you. They want to develop you and improve your skills to be successful."
Although Hales and Cooper locked it down, the offer itself already had Gradney heavily considering the Huskers.
"I was excited for the offer," he said. "It's Big Ten right here. When I got this, I already knew what to think."
Gradney will take his first visit to Lincoln next month after the dead period opens, as he looks forward to getting familiar with his future home.
"I'll take one next month," he said. "I can't wait to see the facilities, the locker rooms, how the field looks and all kinds of other stuff."
With Gradney's pledge, the Huskers secure a multi-purpose speedster that has been a three-phase player for his high school team. He owns personal bests of 10.88 in the 100-meter and 22.41 200-meter events. However going into this offseason, Gradney will go through rehab of an injury he suffered last season before going full steam into his senior football season.
"I had hip surgery," he said. "I had been playing with a torn labrum for three years. I found out during the season so I only played five games. It taught me that anything could happen and you gotta cherish the moment. I'm doing rehab and I'm planning on coming back the hardest. I won't be hurting so I'll be faster, I've been getting stronger."
While his commitment was locked down on Sunday, Houston, Duke, Vanderbilt and Utah State have been some of the programs in contact.
"A lot of coaches ask me what I want to play," he said. "They see me as a utility player, but most of the coaches see me on special teams and then on defense as a safety or cornerback."
At 6-foot-1, 190 pounds, Gradney is ranked as the No. 34 athlete in the country and the No. 70 recruit from the state of Texas.