Nebraska dips into Louisiana once again for four-star DE Ashley Williams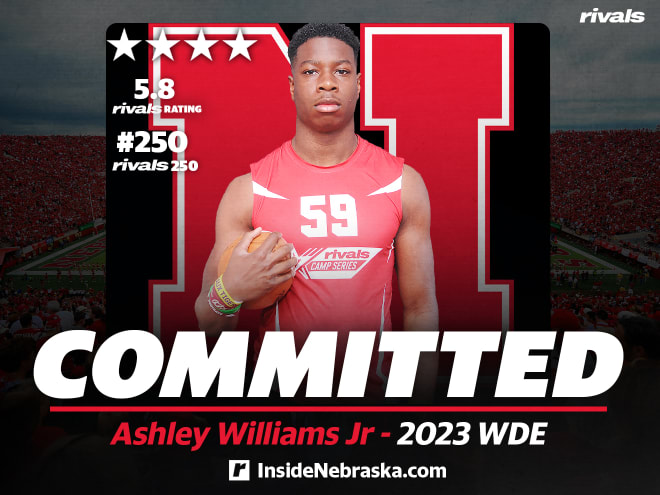 Zachary (La.) four-star defensive end Ashley Williams Jr. announced his commitment on Sunday afternoon to Nebraska as the Cornhuskers fought off stiff competition as his recruitment went on to land his pledge.
For Williams, it was an easy decision to ride with the coaching staff that put the most effort into his recruitment as associate head coach and area recruiter Mickey Joseph, outside linebackers coach Mike Dawson and defensive coordinator Erik Chinander.
"It's really the relationships with Coach Mickey and Coach Dawson and Coach Chinander," Williams said. "It's really family over there."
However, it was especially Mickey Joseph who was able to make the biggest impact as the Louisiana native has had Nebraska rolling in The Boot in the 2023 cycle.
"Ever since he offered me, he had been talking to me and my dad over the last few months and that really means a lot," he said. "He's a funny dude, he's got a lot of energy. He's a cool person."
In his meetings with Scott Frost, Williams was able to see how bought in the head coach was into the program.
"He's all about Lincoln and football," he said.
Erik Chinander made a trip to Zachary shortly after the Huskers extended the offer, and his conversation with Williams and those close to him stood out as time went on.
"He met me at my school a month or two after I got the offer, and that meant a lot," he said. "We've been talking for months as well."
On his official visit to Lincoln, Williams fell in love with the community and the atmosphere that surrounds the campus and team.
"The atmosphere and how the place is," he said. "It's a safe community over there and I love how they keep things over there at a good level."
Now that his commitment is behind him, all of Williams' focus is on his senior season and two big goals he has before leaving high school.
"I gotta get that ring and I'm trying to get at least 15 sacks this year," Williams said.
At 6-foot-6, 220 pounds, Williams is the No. 250 ranked recruit in the country for the class of 2023, according to Rivals. He is the No. 17 ranked recruit from the state of Louisiana and the No. 19 ranked weakside defensive end in the country.
Williams' pledge is Nebraska's 14th in the 2023 class and the second from the state of Louisiana. He is the third four-star in the class joining Lincoln native Gunnar Gottula and fellow Louisianan Omarion Miller.
COMMITMENT ANALYSIS
Despite playing a shade under 200 pounds last season for Zachary, Williams was a violent pass rusher that did not struggle with opposing blockers that were most of the time much bigger than he was. His 22 tackles for loss were mostly by way of Williams using his strong hands and finesse moves to swerve around stiff blockers. With his athleticism, Williams was able to fly around the backfield to make just about any tackle his team needed.
However, his weight improvement will be necessary at the college level. Already up over 25 pounds this offseason, I'd like to see Williams push to 240-plus to feel comfortable about him succeeding in the Big 10. His athleticism, hands and finesse are all elite, and if he can add a dash of strength to that skillset, then he will be one of the more dangerous pass rushers in Lincoln early on in his career.
Williams oozes with potential, it will just have to wait to be seen until he can add the necessary weight and if it coincides with his already adept athletic skills in pass rush. If everything goes to plan for him, we could be looking at an incredibly dangerous player in Erik Chinander's defense.