ND sets the bar high for Hayes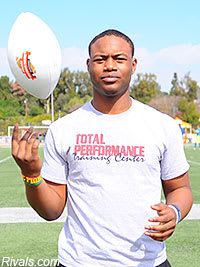 "This visit was nothing short of spectacular," Hayes said. "They set the bar, for real."
"I have confidence in the coaching staff as far as development. You look at Jaylon's evolution from the time he was a freshman to where he is at now - the potential first linebacker taken in the NFL Draft. It's nothing short of phenomenal."
"They have big plans and big expectations, but it is something you welcome," Hayes said. "Even academically it is going to be a challenge. Notre Dame is overall a challenge in itself, but a welcome challenge. I was taking that in and really just soaking it up."
Hayes frequently cites Smith, a former five-star prospect himself, as a player he looks up to. Sunday morning the two linebackers had a chance to connect and talk about Notre Dame over breakfast.
"My biggest thing to ask him was, how do you separate yourself on the college level?" Hayes said. "When you're physically on the same level as other guys, how do you separate yourself? And, his biggest thing was the mental aspect of understanding the playbook, understanding the scheme and what you are trying to do.
"He said you have to spend a lot of time with your coaches and you have to be coachable, be able to absorb knowledge and really immerse yourself in it. It was great talking with him and I learned a lot."
"It is a group of great guys who have the same mindset," Hayes said.
A mid-year graduate, Hayes will be enrolling in college in less than three months. Before the weekend began, though, he took the option of making a commitment during his visit off the table.
"Me and my family knew going into this that we are going to take our time with this, take all five officials and not rush back into anything," Hayes said. "Obviously we're still going to stick with that plan, but Notre Dame definitely set the bar. They are a great school and I had a great time."
Saturday's game at Notre Dame Stadium represented both the past and possibly the future for Hayes as he watched the Fighting Irish defeat USC, the team he had been committed to for 15 months, by a final of 41-31. Whether Notre Dame will land the Ann Arbor (Mich.) Skyline prospect will not be known for a few more weeks, at least, but this weekend they set the standard next month's visits will have to exceed.