National Kicking Snapping Event top performers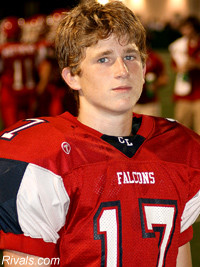 The event on Jan. 12-13 in Las Vegas attracted more than 450 of the top high school and junior college kickers, punters and long snappers. Spread out from more than 40 states and three countries, the event has become one of the biggest showcases for special teams talent in the nation.
"This was the most talent ever assembled for one kicking camp at one location," Sailer said.
"The participants had the opportunity to learn from a highly regarded staff and gain valuable experience on the field."
The next big camp is the 6th Annual National Kicking & Snapping Spring Event May 17-18 in Las Vegas. But form the event in January, an elite group of seniors and underclassmen emerged. Here are the results and Sailer and Rubio's top 12 from the event.
Daniel Zyclinski King H.S. (FL) - Committed to Stanford (Punter)
Nico Grasu Moorpark JC (CA) - Committed to Washington State (Kicker)
Mitch Ewald Waubonsie Valley H.S. (IL) (Kicker)
Evan Engwall Red Moutain H.S. (AZ) (Kicker)
Jackson Rice Campolinda H.S. (CA) (Punter)