Murphy has five frontrunners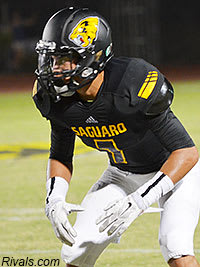 The Rivals100 prospect was so excited by the offer that he has included the Seminoles among five early frontrunners for his commitment.
"All the coaches had been going to Saguaro to see Christian and that's a main reason why they saw me," Murphy said.
"Getting the offer was amazing," Murphy said. "I was very happy and it made my day when I went to class. The coaches are real and even though it's far, I told them all my options are open. It doesn't matter how far it is; I'll go anywhere."
The 6-foot, 170-pound prospect caught 65 passes for 1,348 yards and 13 touchdowns as a junior this past season. On the defensive side, he had 53 total tackles and a team-high six interceptions in 14 games.