Morgan focused on two visits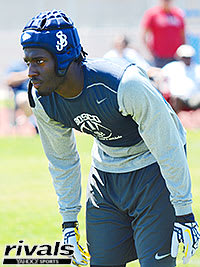 D.J. Morgan
is taking his first official visit this weekend to Notre Dame and the four-star defensive back is definitely excited since he has a lot of good memories from the area.
His grandmother is originally from South Bend so heading back there - this time to take a much closer look at the Irish - has him anticipating a good weekend.
Notre Dame has also emerged as one of the favorites for the Bellflower (Calif.) St. John Bosco standout.
"That's a huge trip," Morgan said.
"I'm definitely looking forward to it. It's almost like going home. That's where my grandmother is from. It's going to be nice to get back out there."
The only other official visit Morgan is focused on scheduling is one to Cal. He likes a lot about the Golden Bears, the opportunity to play early and his teammate, three-star cornerback Traveon Beck, is already committed there.
Morgan might be able to make it up to Berkeley during the season but even if he doesn't he's still planning to get up there at some point before making another decision. The four-star had previously been committed to Arizona State.
"I'm trying to get a Cal visit," Morgan said. "Hopefully it will be the USC game or maybe after the season.
"Going to Cal, they have a great education. I'll major in criminal justice and it gives me an opportunity to start early. They have some need at defensive back."
Morgan finished with a fumble recovery in St. John Bosco's 76-8 season-opening win this past weekend. He also had an interception but it was called back because the quarterback was over the line of scrimmage.