Moore sounds solid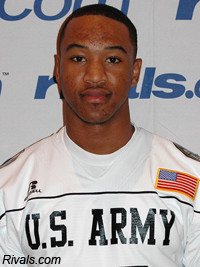 SAN ANTONIO -
After taking a visit to Notre Dame in November,
Byron Moore
stated that he was "still 100 percent" committed to USC.
When the four-star safety from Harbor City (Calif.) Narbonne arrived in San Antonio to begin preparation for the US Army All-American Bowl on Sunday, Moore said he is "about 95 percent" committed to the Trojans.
"Most schools have backed off but there are still a few that I hear from," Moore explained. "I am still talking to Notre Dame and LSU.
"When I visited Notre Dame, I thought it was real nice. They had a good finish to their season by winning their bowl game. So that was real nice to see. I would have an opportunity to play early there and they offer great academics. So I'm considering them. I don't have a visit lined up with LSU, but I am thinking about setting one up. I like the fact they put a lot of safeties into the NFL. That is probably why I want to visit there, so I can be able to learn more about it."
When talking on the subject of USC, Moore did not sound like a soft commit.
"USC has always been my dream school," he said. "By going there I will get to stay close to home and play for a great coach in coach
Pete Carroll
. His whole coaching staff is great. And they have a great defense. I can't wait to get there to try and step into the footsteps of the great safeties that have been there in the past."
Four other Trojan commitments will be playing on defense for the West squad in the US Army All-American Bowl.
"It is great because we are all like best friends," Moore said. "It is fun to be able to come here, play with them, and show a little preview of what the USC defense is going to be like in a few years."
[rl]