Monday Morning Quarterback: ACC Week 3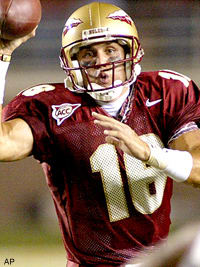 All 11 ACC teams took the field Saturday, the only time that will happen this season, and the result was a forgettable day for the conference. Playing in high-profile games, N.C. State, Clemson and Maryland all went down in defeat.
Meanwhile, the league's top three teams – Miami, Florida State and Virginia – won their games by a combined 133-7, albeit against inferior competition, and there was a major upset on Tobacco Road with North Carolina topping Georgia Tech. Here's a quick look at some of the weekend's happenings.
Overrated?: With the addition of Miami and Virginia Tech, many observers ranked the ACC among the elite football conferences in the nation. The league had a chance to enhance that perception Saturday with a trio of big intersectional games, but it didn't happen. N.C. State lost at home to Ohio State, 22-14, Maryland dropped a 19-16 heartbreaker in overtime at West Virginia and struggling Clemson was routed at Texas A&M, 27-6. Five ACC teams were in the preseason polls, with several others garnering substantial consideration. When the AP poll was released Sunday, just four league teams – Miami at No. 4, Florida State at No. 8, Virginia at No. 12 and Maryland at No. 23 – were among the nation's top 25. And with the exception of FSU's season finale with Florida, there aren't any more chances for the ACC to grab eye-opening wins against the other major conferences.
Mr. End Zone: Virginia's Wali Lundy always has had a nose for the goal line, but his exploits this season have been nothing short of remarkable. In the Cavaliers' 51-0 pasting of Akron on Saturday, he rushed for three touchdowns (1, 6 and 44 yards), bringing his season total to nine. The junior running back, who leads the nation in scoring, has scored 14 touchdowns in his last five games and has accounted for 35 TDs in 29 career games. Lundy also had 142 yards on the ground in the win and is now averaging 106 yards per game, second in the ACC behind Georgia Tech's P.J. Daniels.
Trouble under center: As mentioned earlier, N.C. State, Clemson and Maryland suffered disappointing losses Saturday, and quarterback play was a key factor in each setback. The Wolfpack's Jay Davis was just 12 of 24 for 99 yards and threw three interceptions in the loss to the Buckeyes, while the Terps' Joel Statham had eerily similar numbers – 9-for-20 for 108 yards and three picks – in the loss at West Virginia. Those two quarterbacks are first-year starters and some growing pains were to be expected, but Charlie Whitehurst's struggles continue to astound. The Clemson junior, considered a leading ACC Player of the Year candidate before the season, threw for just 192 yards and was picked off three times at Texas A&M. He's now thrown seven interceptions in three games for the 1-2 Tigers. And the troubles didn't end there for ACC quarterbacks. Georgia Tech's Reggie Ball was just 12-for-29 for 164 yards, 59 of which came on a TD pass to Levon Thomas, with thee interceptions as the Jackets were shocked by North Carolina, 34-13.
Under the microscope: After a poor performance in Florida State's season-opening loss at Miami, many Seminoles fans were calling for quarterback Chris Rix to be benched. Coach Bobby Bowden considered a change but decided to stick with the fifth-year senior. Rix led FSU to a 34-7 win against UAB on Saturday, but his numbers weren't overly impressive. He finished 18-for-29 for 191 yards, threw one interception and forced several other throws. Backup QB Wyatt Sexton did get into the game and looked solid, going 6-for-9 for 47 yards. There might not be a full-blown quarterback controversy in Tallahassee yet, but look for one before the end of the season.
Quick hitters: Wake Forest freshman running back Micah Andrews had 125 yards rushing and three touchdowns in the Deacon's 42-3 win against North Carolina A&T. Andrews, who was suspended for Wake's first two games, is the son of former NFL great William Andrews. … Virginia Tech won its first-ever conference game with a 41-17 victory against Duke … If you were wondering just how far the Virginia defense has come in two years, a look at the Akron game will shed some light. Two years ago, the Cavaliers allowed 495 yards of offense and 336 passing yards to Charlie Frye in a 48-29 win over the Zips. In Saturday's 51-0 win, Akron amassed just 84 yards in the game and Frye was held to 10 of 23 through the air for 72 yards. He also was picked off twice and sacked four times … At one time, Miami cornerback Devin Hester was playing on offense. After electrifying punt returns of 51 and 92 yards for touchdowns in a 48-0 win over Louisiana Tech, don't be surprised to see the Hurricanes find ways to get Hester on the field in special situations on offense.
Quote of the Week: Embattled North Carolina coach John Bunting got a much-needed win Saturday. Said Tar Heels center Jason Brown: "We have so much confidence in Coach Bunting. Last week, he said he took the (blame) for everything that happened (in the loss at Virginia), and he challenged us all this week, and you know what? Tonight, we became men. In the locker room after the game, we gave Coach Bunting the game ball, because he deserves it. He deserves everything we can give him, and he deserves a winning season."
Board bytes: The best of the best from Rivals.com ACC message boards from Week 3 action.
"The ACC is vastly overrated. This is pathetic. Clemson blasted by A&M (one of the worst teams in the big 12). A woeful UNC team crushed Georgia Tech. N.C. State lost to a team with no offense. The verdict is still out on FSU despite the win against UAB and Maryland lost to an overrated WVU team. Virginia may be the best team the conference (Miami will just get better and better as the season goes along as well). But folks, our conference is not nearly as good as people projected in the preseason." Nole Backer at Warchant.com.
"The only thing softer than our O-line is our D-line. When was the last time two backs gained over a hundred yards in a game against us. Three games into the year we have not had a 100 yard rusher, but we have given up four 100 yard rushers." Hilton Head Tiger at TigerIllustrated.com, after Clemson's loss at Texas A&M.
"Look on the bright side, we are one week closer to playing Duke." Bighamim at TigerIllustrated.com, also commenting on the Clemson loss.
"This one game doesn't answer all of the questions, but it does show this team has not quit and is capable. Next week will tell us a lot on where we are as a team. Let's see if they play with the same emotion and fire." JV All Star at CarolinaBlue.com, after UNC's win over Georgia Tech.
"Wow, it only took 15 minutes before the first beer was thrown at us, all in all, reasonably good treatment by WVU fans. For every idiot that gave us the finger or jumped in our faces there was one who was polite to us and wished us well the rest of the season. The beer thrown at us came at about 8:30 a.m., from a dump truck loaded up with about 20-25 people in it. Is it just me or isn't that illegal?" female Terpfan at TerrapinTimes.com, on visiting Morgantown for Maryland's overtime loss to West Virginia.