Mitchell trims list to 10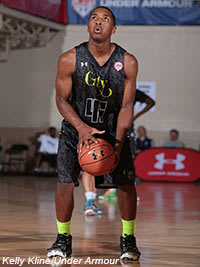 Mitchell credits his strong play during July to a change in his approach to playing the game.
"Playing with more determination and playing as if basketball ends completely tomorrow," Mitchell said. "Just having the mentality that today is your last day of basketball. It allowed me to go out and give everything I had on the floor. [My improved play] is probably a combination of my attitude towards the game and my overall game improving."
Mitchell's next move is to take more visits and try to whittle his list down even more by the end of August.
"At the end of August, I'll get my list down to five. I'm going to Villanova for an unofficial visit on Monday and then an official visit to Louisville on the 7th and 8th of August. Those are the only visits I have set right now."
The opportunity to potentially play early and often at Villanova intrigues Mitchell.
"I like Villanova a lot. They have a spot for me. I'd be able to contribute right off the bat and get solid minutes. I like the school a lot as well. They have had a lot of good guards come out of there."
The bigger stage and tradition at Louisville has put the Cardinals firmly in the mix in Mitchell's recruitment.
"Louisville is the same situation. I'd have a chance to possibly start at both schools. I'd have a chance to showcase my game at higher level on a national stage at a big program with a lot of tradition. I just feel like that would be a nice place."
Kansas is the most recent offer for Mitchell. The Jayhawks have a familiar face for Mitchell now on their roster.
Georgetown, like Kansas, has a former Brewster Academy teammate of Mitchell's now on the roster. They also have the combination of a strong basketball program and highly respected academics that Mitchell is looking for.
"Everyone knows them as a big man school, but for me, I just want to be able to play and have a great education. Georgetown has both. They need guards once some of their guards leave next year. My teammate Isaac Copeland goes there. I feel like I'd be able to come in and produce at the guard spot, maybe even have a better chance to start there than some other places. I feel like that would be a nice place to go play and on top of that receive some of the best education in the country."
North Carolina is the only school to make the cut for the four-star guard that has not extended a scholarship offer. So why did the Tar Heels stay on his list?
At the end of the day, Mitchell just wants to find the right fit for him.
"Playing early and the education are big factors, but I just want to find the right spot for me. That's why I don't have a set date for committing yet. It has to feel right. I'm not sure if it will be during the early period or not. I'm just focused on cutting my list down right now."

[rl]