Mississippi OL to visit Hogs, Cocks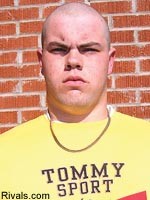 Three-star Southaven (Miss.) offensive lineman
Josh Winchell
has scheduled his first two official visits for the schools that may be emerging as leaders.
"I'll be going to Arkansas on Jan. 16 and South Carolina on Jan. 21," he said. "There will probably be some others, but I'm not sure who right now."
Winchell (6-5, 310, 5.0) is rated the No. 23 offensive guard in the nation by Rivals.com. He also has offers from Michigan, Nebraska, Auburn, Ole Miss and Mississippi State, among others.
Asked why he picked Arkansas and South Carolina for visits so far, he said: "They've just shown the most interest, the most consistent interest of anybody. I like their coaches a lot. With Arkansas, I've got a lot of family up there. That would be nice to play close to them. With South Carolina, it would be fun to play for a legend like Lou Holtz."
Do the Razorbacks or Gamecocks hold a slight edge?
"I wouldn't say I have a leader or right now," Winchell said. "I like them both for certain reasons on a given day. Just depends when you ask me."
Southaven closed the season with a disappointing 5-6 record, but Winchell said he performed well the entire year, finishing with 60 pancake blocks.
Academically, he carries a 2.8 GPA and has an 18 on the ACT.