Mind of Mike: Thoughts on conference title games, playoff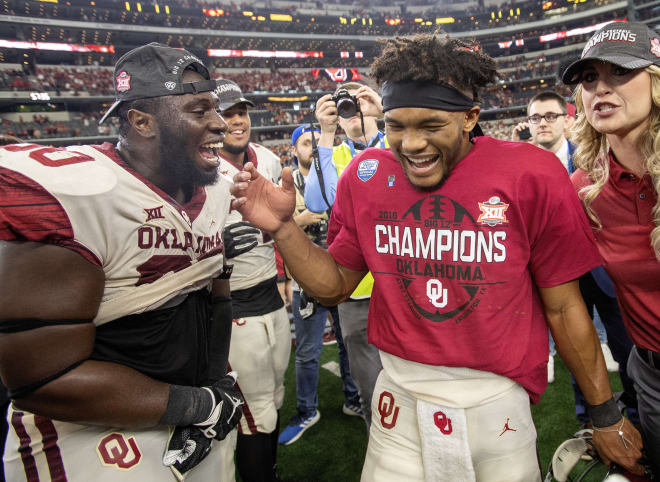 ... The committee got it right by including Oklahoma over Georgia and Ohio State as the No. 4 team in the playoff. The Sooners may be lacking on defense but their offense is historically good, and they avenged their only loss against Texas in the Big 12 title game. Georgia had its shot at Alabama this weekend and blew a two touchdown lead, and the Bulldogs also have a 20-point loss to LSU on their resume. Ohio State was doomed when it got blown out by an average Purdue team. The Sooners in the playoff will make things very interesting.
... How about some predictions before I get into the conference title games? Alabama beats Oklahoma in a shootout 56-48, while Clemson takes care of Notre Dame 37-23 in a game that isn't as close as the score indicates. And, once again, Alabama and Clemson face off for the national title, with the Tide taking it home by a score of 34-28. Set you bets early kids.
... Hats off to all the playoff teams. For Alabama to go undefeated and come back against Georgia without its starting quarterback is impressive, and I'll speak more about Jalen Hurts below. Clemson has been consistent and impressive all season long, and it boasts the best defense in the country, while Notre Dame went through a tough schedule, tougher than anyone else in the playoff, and came away unscathed. Finally, Oklahoma overcame a very poor defense to outscore everyone it played, and Kyler Murray should be the Heisman winner (more on that below as well).
... Ohio State killed Michigan by blowing them out of playoff contention, but Michigan also screwed Ohio State by losing to Notre Dame by a touchdown in the opener. Had Michigan won that game, you could make a case that Ohio State would be in the playoff as one of two conference champs left out.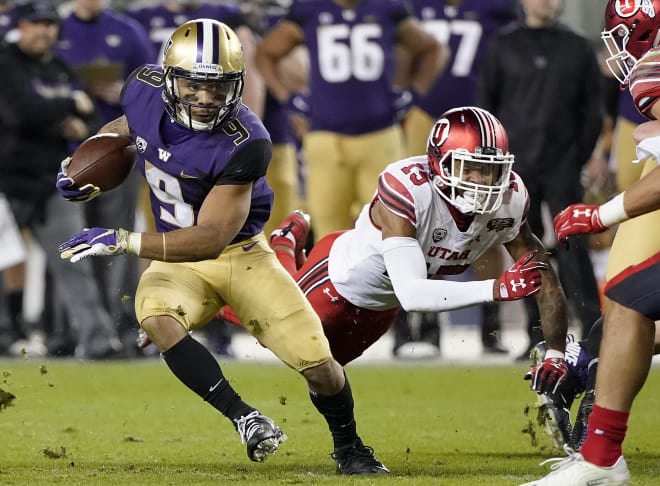 ... The one conference not mentioned at all when it comes to the playoff is the Pac-12, which is a mess. The title game between Washington and Utah was ugly and mistake-ridden, and stars like Jake Browning and Myles Gaskin seem to have taken a major step backward. Byron Murphy was the star of the show with his 66-yard interception return, but overall the game was awful. Utah had a solid season and Washington was up more than down, but there was no star power in the conference, and even with an expanded playoff the Pac-12 might not get in, unless there was a mandatory spot for conference champs. Ugly stuff.
... If you're not happy for Alabama quarterback Jalen Hurts, then you don't have a heart. Hurts could have easily abandoned his team - as many others have done - when he lost the job to Tua Tagovailoa and left Alabama in a jam, but instead he endured with class. And when he was needed at the biggest time, he delivered an SEC title for his teammates. Hurts has handled everything with class, and whether he transfers now or not he will go down in Alabama history as one of the greats.
... Tagovailoa's performance makes the Heisman race a bit more interesting, and I think Kyler Murray from Oklahoma should win it now, and Dwayne Haskins from Ohio State can make a great case as well. Tagovailoa was injured, of course, but that's part of the game, and before his ankle injury he looked off and less sharp than we expected. In fact, you could say his injury saved Alabama from a loss.
... Jake Fromm is the real deal. This kid has some arm talent. Forget Justin Fields for now Georgia fans. The quarterback of the future is the quarterback right now. In fact, I think by playing Fields to try to keep him interested and happy hurts the offense overall. Next year, I expect Fromm to be the starter, and then he's off to the NFL after that. Whether Fields waits around that long is up to him. He has a great future ahead of him, whether it's at Georgia or someplace else, but Fromm is the man.
... The Oklahoma defense made some big plays against Texas and looked better than it has in weeks. Tre Brown's huge safety was the first for the team in five years, and I thought Ronnie Perkins had a great game and has an excellent future. There were still some serious gaps in coverage here and there, but the defense was a big part of this win. The offense, of course, is still the story for Oklahoma, as it has so many weapons. Tight end Grant Calcaterra is a major weapon, and CeeDee Lamb is a star and stepped up in a big way when Marquise Brown went down to injury. And I was especially impressed with the offensive line as it came together in the second half and played angry. This Oklahoma team can give Alabama some serious trouble.
... Congrats to Texas on a very good year and an argument could be made for the Longhorns as the favorite in the Big 12 next year under Tom Herman.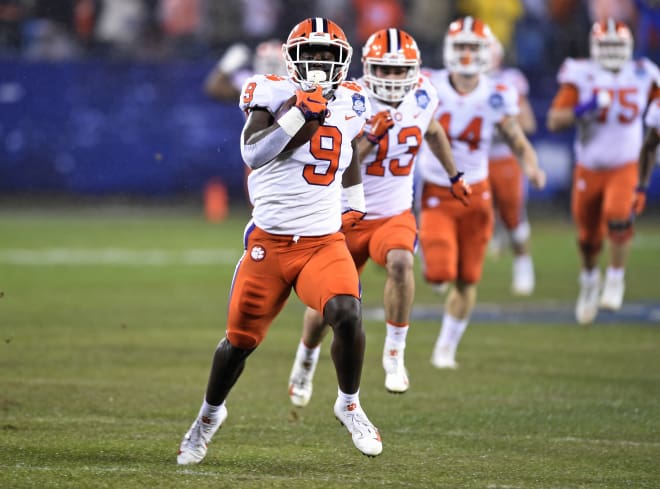 ... Clemson handled Pitt easily as expected, and it was clear from the start. The difference in athleticism could be seen as early as Travis Etienne's first carry, a 75-yard touchdown, and the game was over at that point. The Pitt passing game is horrible, and it was a massive weakness for the team when it fall behind. Pitt had a good year heading into the title game, but the ACC Coastal is awful. The last time the division won the ACC was Virginia Tech in 2010, and all the bowl teams from the division are average football teams, at best. The ACC overall isn't great, aside from Clemson, but the Coastal was especially bad.
... Ohio State had a tumultuous season with Urban Meyer's suspension and the loss of Nick Bosa, but overall it was a great season. The Buckeyes fell just short of the playoff, they handled a tough Northwestern team with ease to win the Big Ten title, and - perhaps most importantly - they destroyed Jim Harbaugh and Michigan. The Purdue loss killed them, but this is a premiere program in college football. And J.K. Dobbins, the first player in Ohio State history to rush for more than 1,000 yards in his freshman and sophomore years, is a terrific player and fun to watch. Northwestern surprised everyone by winning the West, and despite the loss it is 15-2 in its last 17 Big Ten games.