Mind of Mike: Secrets and surprises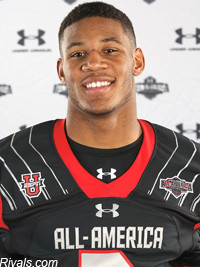 As we head into crunch time with just a few weeks left until Signing Day, there are always a few things that I call "the worst-kept secrets in recruiting." However, these are offset by some major surprises. In the last week or so, I have seen my share of both and here's a breakdown of a few of them.

And Dee himself said he would likely stay committed to Auburn until Signing Day and then make his final decision. However, Liner did the right thing for everyone involved by de-committing publicly rather than wait and make a big flip on Feb. 6. Alabama is clearly the team to beat and it would be surprising if he ended up anyplace else.





Florida was always a threat for Anzalone, but he was 100 percent Irish before the final flip. So to get that text the Thursday morning before he was set to head to South Bend was indeed surprising. Monday morning quarterbacks will say this was all planned, but I can tell you for a fact it wasn't.


This one could probably go under Worst Kept Secrets and Biggest Surprises.
I still think Nkemdiche's ultimate decision will be to head to Ole Miss to play with his brother.
Anything can happen on an official visit and taking a few other officials aside from Ole Miss before making a decision is interesting, but most have assumed he's been headed for Ole Miss for weeks. The bigger question appears to be whether he ends things on his Ole Miss visit or lets this play out until Feb. 6.




He is still committed to Baylor and could stick with it, but it's unlikely all this attention would have come had he not been so good.


If the Tigers don't come away with one of the two, it will be a disappointment. If they come away with both, it's clearly a home run. Right now they lead for Adams, according to a good source but Lawson is wide open even after a good visit and still remains a soft commitment to Auburn.



That will leave the final weekend before National Signing Day still open and Auburn is still trying to stay in the picture after a good visit with him this week. Currently, Foster seems to favor Alabama and Georgia, it appears, so his two upcoming official visit experiences should go a long way to helping him make his final decision.




Speaking of Miami, it looks like the NCAA will come down with sanctions in the spring or early summer, which leaves the Canes in limbo and will continue to hurt recruiting. When you have more commitments from New Jersey than Dade or Broward County at this stage, even with a smaller class, it's clear that the NCAA deal is having an impact.
If Miami strikes out on Kirkland, Thomas and Collins, the meltdown will be huge.

There are also some pro-UCLA folks at his school, according to sources. He could very well end up elsewhere, but those thinking UCLA is a heavy underdog here would be underestimating the Bruins.

Being told at that point to delay enrollment to June just isn't right and anyone who has met or interacted with Fitts know what a high-character kid he is. Of course, this is a business and USC is in a situation where sanctions limit the Trojans' recruiting and roster scholarship numbers, but this was just wrong, especially since it was just a few days before he was set to arrive.


Many recruits have said how much they admired and looked up to Te'o either simply watching him on TV or meeting him on visits, but now it appears his character will be questioned. However, unless evidence comes out that proves Notre Dame knew that Te'o was playing up this imaginary relationship, the Irish will continue to recruit at a high level.

Clemson looks like the biggest hurdle for the Wolfpack, as Priester has long admired the program and the recent offer has definitely peaked his interest. If the Tigers push for a commitment during the official visit, don't be surprised at all if a flip happens.

Bell has not spoken about these rumors since then, but contacts at his high school are denying this occurred. It is possible that he is waiting until his upcoming official visit to Alabama this weekend to truly make it official, or he may be looking to keep some drama until National Signing Day, which is when he was originally scheduled to announce.
Tennessee is hoping for the last shot at Bell and the Vols were once his favorite, but that was a long time ago. He's been a near Bama lock for some time.




[rl]