Miller taking leadership role at CaliFlorida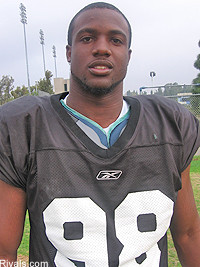 ANAHEIM, Calif.
- It's not just a game, but rather it's another opportunity for leadership with one defensive prospect playing in this year's
Air 7 CaliFlorida Bowl
. Miami (Fla.) Central three-star defensive end
Bryant Miller
talks the talk and certainly walks the walk both during play on the field and on the sidelines.
One such incident was the competitive nature of the Florida team was starting to unravel into some bickering late Thursday morning. The 6-foot-3, 233-pound Miller shouted for his team to gather around and calmed them down with a speech about playing as one team, rather than individuals.
Then again, that's just what he does.
"We're having fun man, but we've got to keep our heads out there," Miller said. "The defense likes to keep things live and real vocal. Plus, we're real hungry as well. We just have to continue doing what we're doing and not lose our cool out there."
His recruiting process is as hot as ever as well. Auburn, Florida, Florida State, Michigan State, Ole Miss, Ohio State, and others have filled up his stack of offers.
Miller, like many other prospects at the event are starting to narrow down his list to a few favorites.
"I'm looking toward Miami, Auburn, Florida State, Ole Miss, and Michigan at this point," Miller said. "I'm not down to one school right now. I've got to hit up my visits and by Signing Day I should know where I'm headed."
Visits are up next after only taking one to Ole Miss. Auburn is the first set up in January.
"I've got Auburn on Jan. 13 and I think Michigan will be on Jan. 20," he said. "I haven't heard from Florida State about a trip yet. I just want to do my thing this week and win. Then I can concentrate on all that stuff."
"I don't care if I don't have the stats. If I can open up the hole for someone to make a play and we win, it's all the better."