Miller looking forward to visits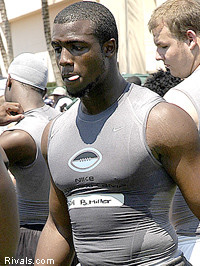 When discussing the top defensive ends in the Sunshine State, it's hard to talk for long without bringing up Miami Central's
Bryant Miller
.
Miller established himself as a player to watch with a solid junior season, during which he recorded 42 tackles and six sacks.
His huge day at the NIKE Camp in Miami back in April really opened the recruiting floodgates, as the rush end showed great athletic ability, clocking a 4.78 40 and benching 26 reps of 185 lbs. on his way to 75.70 SPARQ Rating.
The 6-3, 235 pounder was recently selected to play for the Florida team in CaliFlorida Bowl 7 and StudentSportsFootball.com caught up with Miller to get the latest on his recruitment as well.
"Things are going well right now," said Miller. "I'm really excited about coming out to California and playing in the all-star game."
On the recruiting front, Miller says he'll start scheduling some trips after he takes the ACT on December 3rd, but has a few in mind.
"UM is definitely up there along with Florida State and Ohio State, but really there's a bunch of schools that I'm talking to and interested in."
Unfortunately for Miller and his Miami Central teammates, the 2005 season came to a premature end, as despite a 6-2 record, the Rockets missed qualifying for the Class 6A playoffs by finishing third in their district.
"It was a hard season with the hurricanes coming through and messing up the schedules and everything," said Miller.
"I still did my thing though - I had about seven or eight sacks and our defense had five shutouts."
Miller will have one more chance to do his thing this year, suiting up for Florida in CaliFlorida Bowl 7, which will be played December 31st in Southern California.
Stay tuned to StudentSportsFootball.com over the next two months for more CaliFlorida Bowl 7 coverage, including official roster releases, player updates and practice coverage!