Mid-Atlantic mailbag: Terps rising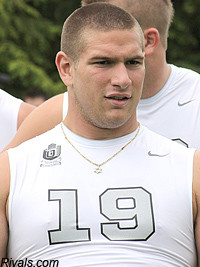 Does Maryland have a shot with in-state talent?
Which Don Bosco Prep prospect will be best in college?
And is Syracuse improving its presence in New Jersey?
These questions and more are addressed by Rivals.com analyst Mike Farrell in the Mid-Atlantic recruiting mailbag.
More interest in Maryland
- Sebastian from Annapolis, Md.
Maryland went into the season opening home game against Miami knowing that it was a fantastic opportunity to make a huge impression on the top in-state targets, many of whom the Terps were struggling with until that point. The primetime ESPN game on Labor Day night, the new uniforms, the loud atmosphere, the new coaching - it all created the perfect scenario for Maryland, and the staff took advantage of it by rounding up all of the top in-state talent.
Bosco's best
- Rudolph from Tenafly, N.J.
Shumate is still somewhat of a mystery because his future position is still up in the air. At Bosco he plays safety, but he finds himself closer to the line of scrimmage during a good portion of the game. He will likely start at safety in college, but a move to outside linebacker or a hybrid position between the two is also not out of the question. Either way, he is another hard hitter who is physically impressive and has a great nose for the ball. He may take a little longer to develop because of the position question mark, but either way he will make his mark in college.
Helping each of these players is also the coaching that they receive at Don Bosco Prep on a day-to-day basis. The Bosco program is run and organized like a mini-college already, so the transition to the next level is not as drastic for these players as it is for some other top prospects.
Little Orange in Jersey
- Stuart from Islip, N.Y
The lackluster play on the field during the 2000s obviously did not help this issue, but more of an effort needs to be made. And while the play on the field under Marrone is improving, and the team is coming off of a bowl victory last season, the efforts in New Jersey remain the same and so are the results.
O-line is the Pitts
- Carlisle from Scranton, Pa.
With limited time to recruit, it is understandable how Graham was quickly filling holes instead of planning a long-term strategy with his first class, however it is more surprising that his current class only has one offensive lineman at this time.
There is always the chance that some defensive line recruits get moved over to the offensive side, but usually that's more like putting a bandage on a bullet hole. What Pittsburgh needs in this class are a couple of high quality offensive linemen who at least have the potential to step in and contribute early. The offensive line is not an easy position to step in as a true freshman, but it would be nice for the program to grab a couple who at least have the potential.
[rl]