Michigan flips Texas DT Ike Iwunnah away from Colorado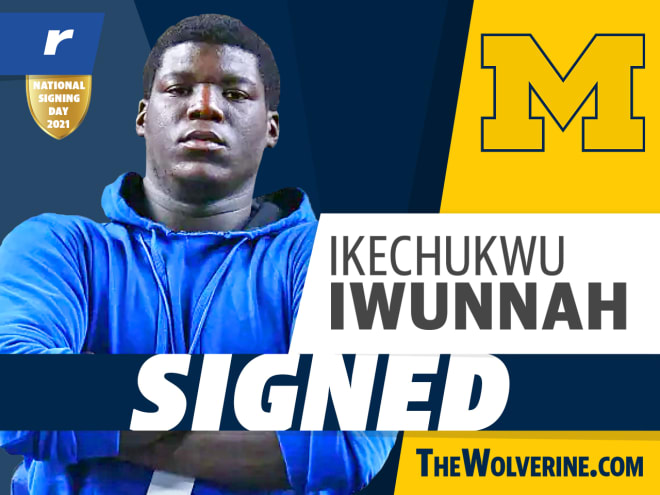 THE SITUATION
After months of wrestling with his college decision, Ike Iwunnah pledged to Colorado in the middle of January.
Four days later, new Michigan defensive backs coach and co-defensive coordinator Maurice Linguist extended an offer to the three-star defensive tackle from Garland (Texas) Lakeview Centennial. From there, Iwunnah was tasked with another difficult call.
On National Signing Day, Iwunnah flipped his commitment from Colorado to Michigan and signed with the Wolverines.
Iwunnah is the first defensive tackle in the Wolverines' 2021 recruiting class, which entered Wednesday ranked with the nation's No. 11-ranked haul on Rivals. He's the second Texan in the fold along with Del Valle (Texas) running back Tavierre Dunlap and the fifth defensive lineman overall.
IN HIS OWN WORDS
"It's all about football, getting my degree and creating a great life for myself and my family."
"Coach Mo (Linguist), he kept it easy. He told me all the important stuff and kept it 1-on-1, kept it straight and it was good. I liked that about him. I understood where he came from and he knows Garland. Being from Mesquite, it's a big deal to know the concerns I might have had and he spoke on that."
"Michigan has resources beyond any school that I had offers from. The resources, the coaching staff, the people over there sold me on that. They showed me how they were gonna help me become a better player and emphasized my grades."
"The experience the coaching staff has ... the amount of years they have in the game ... the level they came from .... everybody has been telling me about how he (Jim Harbaugh) is a legend and how good he was, how he can turn me into the best player I can be. I'm just ready to get over there and I'm excited."
"This (recruiting process) was crazy. I thought I was finished and done, and then my coaches told me about the great news (the Michigan offer). I had to go through it again, and over the last week, coaches from Michigan were talking to me, telling me about the academics, the strength and conditioning program, telling me about the school. My family and I compared it to Colorado and Michigan won over the top. It was the best school and my parents loved it over there. They definitely agreed with my decision and they were happy about it."
RIVALS REACTION
Iwunnah was the Texas District 10-6A Sophomore of the Year in 2018 and was an All-District selection at defensive tackle as a junior last season. As a senior, Iwunnah pieced together his best campaign yet, showcasing his first-step quickness, power and agility from the middle of Lakeview Centennial's defensive line throughout the fall.
Iwunnah is a two-sport athlete that also participates in track and field. He has a broad frame (6-foot-4, 290 pounds) with raw power and excellent bend for his size. He moves around the defensive line and sees snaps on the interior and on the edge with good closing speed. He plays with momentum and brings a wealth of athleticism to the position despite tipping the scales at almost 300 pounds.
Iwunnah has violent hands and battles well with them in the trenches. He's adept at absorbing blockers -- sometimes double- and even triple-teams -- and shedding them to race to the ball-carriers. He plays with a high motor and intensity and has a deceptively long reach to corral ball-carriers.