Michigan commit Branden Jennings is a 'day one' guy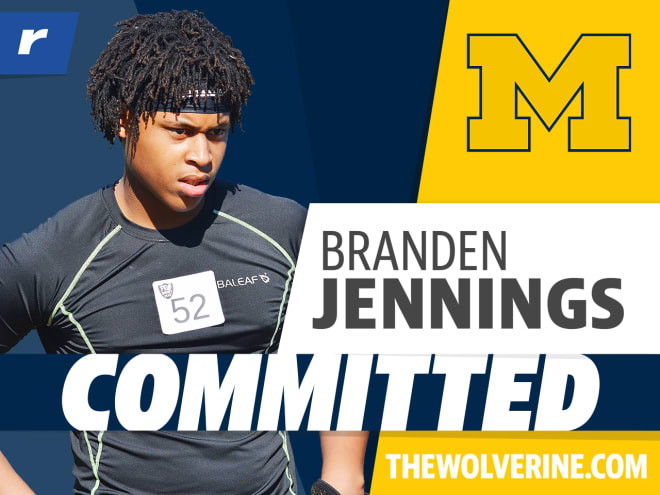 After being committed to Florida State for eight months, Jacksonville (Fla.) Sandalwood four-star linebacker Branden Jennings re-opened his recruitment earlier this week.
The No. 4 inside linebacker in the country only stayed uncommitted for four days.
Jennings committed to Michigan and the Wolverines are getting a player who could be ready to step on the field as soon as he gets to Ann Arbor.
"Branden is a day one guy," Sandalwood head coach Adam Geis. "He's the most serious guy I've ever coached. He is so physical. We prepare our guys to play college football, and Branden stays focused, he has been through it all, and he is a player that will game ready right away."
Jennings is all of 6-feet 3-inches talk and pushing 235 pounds midway through his senior season. Geis loves the fit in Ann Arbor for his senior leader.
"Michigan was one of the first schools to recruit Branden and I know he loved the visit when he went there early for the Army game. He went at a great time, and he loved the weather, he loved the environment, and he really loved the school.
"I think it is a great place for him. He's always wanted to play in a true 3-4 defense, and with his ability, Branden can play all four linebacker positions in the Michigan defense.
"He has great size, he is athletic and he is vicious on the field. He is just different. He will take aggression and toughness to Michigan immediately and I think he will play very well in that defense.
"Branden breaks helmets. He plays so violent. He's just different. He plays like Dick Butkus played back in the 1960s.
"Michigan did a great job recruiting him, he likes the school and Branden will make an early impact up there in that defense."