Micah Morris will be a national name soon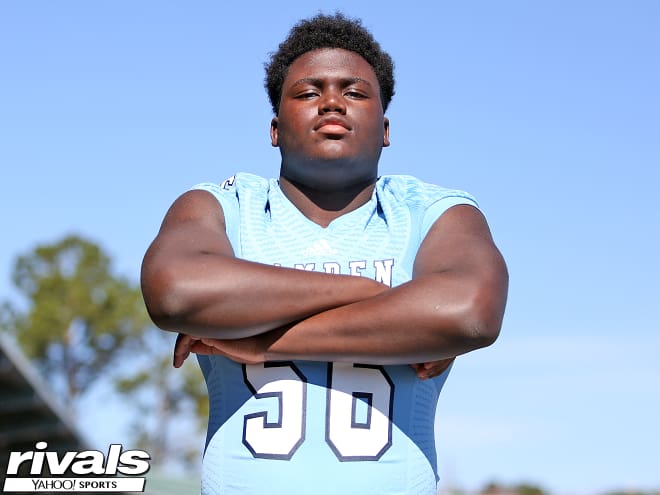 KINGSLAND, Ga. — Camden County is going to be a regular stop for college coaches in the coming years. Bob Sphire has some young football players that the country is about to know about and leading the way is 2021 offensive tackle Micah Morris.
The freshman is 6-foot-5, 278 pound and he has already been offered by Alabama, Georgia, North Carolina, Ohio State and South Carolina.
The quiet, mature, intelligent young man has taken it all.
"The offers just gives more reason and more motivation to be the best," said Morris. "I did not expect offers to come this soon. I came out of middle school thinking that if I put the work in, then I may get one or two offers in time, but I did not think it would happen this soon.
"I see them all as a blessing. It has been very surprising."
The Gamecocks offered first and he said "wow" went through his mind when he received that news. He likes the direction the Gamecocks program is headed.
The last school to offer him after watching Morris workout late in January was Alabama. His parents are Crimson Tide fans, so the 14 year old is well aware of their success and style of play.
"Alabama plays like dogs and they go out there, play hard and do whatever it takes to get the job done. That is what I see every time I watch them, so it is an honor to get an offer from them. It was a humbling moment."
The team Alabama defeated for the national championship in overtime was in-state school, Georgia. Kirby Smart sent offensive line coach Sam Pittman to check on Morris last month and the Dawgs have his attention.
"I like Georgia on and off the field. I like the intensity they play with and I also like their campus. I have been there before and I like it up there."
Being a top offensive lineman, Morris keeps an eye on the play in the trenches. His favorite player is Orlando Pace, a former Buckeye. Ezekiel Elliot is another former Ohio State star that Morris likes. He said they "style of play" and how they play at a "fast pace" stand out to him when he watches the Buckeyes on T.V.
Morris will have many eyes on him this spring and coaches are already inviting him to visit and working to get him on their campus. He showed no emotion about the offers he has received and he is about as humble of a young man as you will find.
He knows he still has a lot of work to.
"It is a great feeling and it is exciting for me, but I am still working to get stronger, faster and better," said Morris. "All of this is humbling to me and it is going help me work that much harder."