Miami DE picks up first offer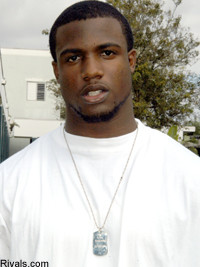 One school that annually produces a ton of talent is Miami (Fla.) Central. This year may be an up year even for the Rockets as they boast six Division I prospects. One of the six received his first scholarship offer earlier this week, defensive end
Bryant Miller
.
"I got an offer from Akron yesterday," Miller said. "It was sent Fed Ex to my school and that was real exciting for me getting that first offer to come in you know. I am hoping to get a lot more of them."
Miller, with a 6-foot-4, 235-pound frame and running the 40-yard dash in 4.7 seconds, is likely going to have plenty of offers before the recruiting process is over.
"Miami is probably my favorite, but I am open to a lot of schools," Miller said. "Pretty much any school interested in me, I am interested in. I grew up loving Miami and it would be cool to stay close to home, but I would also love to go to Florida or Florida State too. I'll just look at all of my options."
Miller boasts a 355-pound bench press and 475-pound squat. He also runs the shuttle in 4.8 seconds and will attend the NIKE camp at Miami on April 10.
"On the field I am very aggressive," Miller said. "I just love the game and I play hard all the time. I look up to Julius Peppers a lot because he has speed, strength and size and he is just unstoppable. I think I am like him in some ways because I am a well rounded player."
Like many prospects Miller realizes the opportunity that has been given to him by being offered a scholarship and he isn't going to let it pass by.
"You have to say motivated and you have to stay in the weight room," Miller said. "You have to take things seriously and keep working hard and always try to get better. Not everyone gets the opportunity to play college football so I want to take advantage of it."