Miami commits backing school so far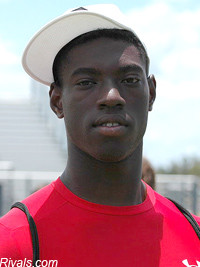 The Yahoo! Sports investigative bombshell surrounding allegations of widespread impermissible benefits to University of Miami athletes, particularly its football players, sent shockwaves through collegiate athletics nationwide.
But Tuesday's report hit particularly close to home for high school football players either committed to play at Miami, or considering it.
"Long before I was a recruit, I was a Hurricane fan," Orlando (Fla.) Jones offensive lineman
Duaron Williams
told Rivals.com. "So when I first heard about it, I looked at it from a fan view more so than a recruit.
"My reaction was just like wow, especially at the extent of the allegations. Like this is some pretty serious stuff."
So serious, in fact, are the allegations that if proven to be true, could cripple Miami's football program for years. For prospects, that becomes an inevitable part of their decision.
Williams, who does not currently hold an offer from
Miami
but has consistently mentioned high interest in the program, said the news doesn't cause him to feel any differently about wanting to play for the Atlantic Coast Conference program.
"But as far as changing anything, not at the moment," Williams said.
Others are in search of more answers.
One such prospect is Weston (Fla.) Cypress Bay offensive lineman
Daniel Isidora
. The offensive guard is down to Miami and
Wisconsin
. According to his head coach
Mark Guandolo
, Isidora and his family have some questions pertaining to how the reported misdeeds by Miami booster
Nevin Shapiro
will impact the Hurricanes down the road.
"His family wants to talk with some people a bit more to see what's going to happen," Guandolo told BadgerBlitz.com on Wednesday. "This all just came up real fast so he's trying to take it all in. I can't say it will knock Miami out but it's something Daniel has to think about."
For the most part, though, the immediate impact would be felt among those who have already pledged their services to Miami. At the time the news broke, the Hurricanes had collected 24 commitments.
Doylestown (Pa.) Central Bucks East defensive end
Jake O'Donnell
has been committed since June. Tuesday's news does little to change his mind.
"It's very unfortunate to have all of this happen, but I trust in the Miami coaching staff and NCAA officials that the right decision will be made," O'Donnell said. "I'm firmly behind the university, it has a great academic reputation. Furthermore, I am 100 percent behind coach (Al) Golden and his staff, and we need to move forward with the program. I was down at the U this past Sunday for family day and it re-affirmed my commitment to the U."
Those sentiments were echoed by a number of his fellow commitments when reached for comment on Wednesday.
"I'm still a solid verbal," Miami (Fla.) Norland running back
Randy Johnson
said. "I believe we should let them do their investigation so that we can move on."
"I'm totally committed to the U," Vero Beach (Fla.) defensive end
Dwayne Hoilett
added. "I hope the rest of the 2012 class is too. We bleed Orange and Green."
A major reason the commitments feel confident in their decision is their future head coach. Golden, who was not associated with any reported wrongdoings, appears to be the strong foundation on which many prospects cling.
"I am behind Coach Golden and the Miami coaching staff 100 percent,"
Clearwater (Fla.) Countryside quarterback
Gray Crow
said.
"I think everything will pan out to be OK," Miami (Fla.) Coral Reef defensive back
Vernon Davis
said. "I am still a Cane. I trust them all, (Al) Golden and his staff."
In fact, no commitments that shared their reaction on the news with Rivals.com indicated an immediate change in plans. The closest that anybody came was Stone Mountain (Ga.) Stephenson linebacker
Raphael Kirby
. But even the U.S. Army All-American said he remains faithful to Miami at this time.
"I read everything about Miami - all the allegations. As of now, nothing is really true," Kirby said. "I'm not going to lie, you don't expect things like this. It's not looking good, but I'm still committed. It's a business. I have to do what's best for me. But right now I'm still a Hurricane."
There is no doubt that recruits and commitments alike will keep a close eye on further news that involves the scandal, but at this time the future Hurricanes say they are prepared to weather the storm.
Rivals.com's Keith Niebuhr and Mike Farrell contributed to this report.
[rl]