Meador sets the stage for Signing Day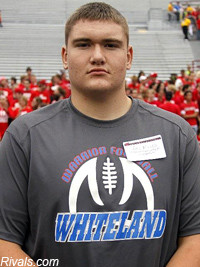 The highest ranked uncommitted prospect in the state of Indiana is Whiteland (Ind.) Community offensive tackle
Jake Meador
, and the 6-7, 305-pound prospect is ready to announce his decision on Wednesday between a final group of three schools.
"I've got Missouri in there who is moving into the SEC, which will bring a new challenge," Meador said. "They run a spread style offense and are going to bring a different class to the SEC.
"Florida is in there, and it's been a big dog in the SEC for many years. There's a lot of history there and a good style of football.
"Then, there is Wisconsin which is definitely o-line university in the Big Ten. They produce a lot of linemen. It's different weather - a lot colder."
This past weekend, Meador took his final official visit of the recruiting process to Wisconsin. Having been on several official visits prior to this one, Meador knew exactly what he was looking for in Madison.
"Overall, it was what kind of a relationship I'd have with the coaches," Meador said. "Obviously I knew them because I had been up there before, but this was renewing that [relationship] and meeting them face-to-face again.
"I also wanted to see how I would fit in with the players and the overall football aspects of Wisconsin. My player-host was
Tyler Marz
. I hung out with him and his roommate, who was a freshman tight end. I feel like I fit in real well, just like every place I have been to. Wherever I go, it is going to be a good fit."
During his visit to Wisconsin this past weekend, the Badgers' coaching staff stressed the need for additional offensive linemen in the 2012 class.
"They have one decommit and they don't have a whole lot on the offensive line," Meador said. "Injuries last year killed them, so they need to sign a good class."
Meador is set to announce his decision at a 10:10 a.m. ET press conference at his school on Wednesday and preparations for that decision have already begun.
"I've been talking with my head coach, my mom, my dad and my brothers and been discussing things, so we'll see how everything pans out," Meador said.