McDowell situation unresolved, visits on tap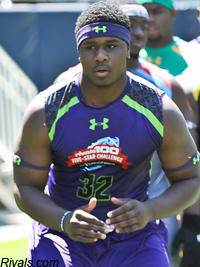 Five-star defensive end
Malik McDowell
was the only class of 2014 prospect ranked in the Rivals250 who did not send in a letter of intent last week, and a resolution to his recruitment may not come for several weeks.
The choice of Michigan State was McDowell's, but his parents have been clear that they would like to see their son at one of his other finalists. Exploring those possibilities more in-depth is likely over the coming weeks according to his father, Greg McDowell.
"I know he is open to taking some unofficials to Florida State and Ohio State," Greg McDowell said. "We plan on doing some unofficials and see if he and his mom can resolve this. It's possible she'll be open to Michigan State as well, so we'll have to see."
Greg McDowell also noted that Michigan is still in the picture, and conversations are ongoing with all three finalists he did not pick on National Signing Day.
"One thing I have to say about those schools is after hearing everything, they were calling -- not on the recruiting aspect, but calling to see if the family was all right," Greg McDowell said.
While last Wednesday is known as National Signing Day, it was technically the opening of the signing period, and prospects have until the end of March to send in a letter of intent before that signing period closes.
Since Feb. 7, NCAA FBS member institutions have been in a Quiet Period, meaning they are not allowed to have face-to-face contact with prospects off-campus but can telephone and have on-campus contact with recruits. The Quiet Period stretches for the duration of the remaining signing period.
Although there are seven weeks left before the signing period closes, McDowell's planned unofficial visits are expected to commence shortly.
"They'll be jumping off soon," Greg McDowell said. "We plan on getting down to Florida State as soon as possible, and with Ohio State being a three-hour ride, we'll drive over and sit down."
With additional research, additional conversations and the microscope of National Signing Day passing, Greg McDowell is optimistic a resolution can be reached and a letter of intent will be signed and delivered.
"We have until April 1 to decide, so hopefully within the coming weeks we will have something," he said.

Click
Here
to view this Link.
[rl]