Mathews commits to Ole Miss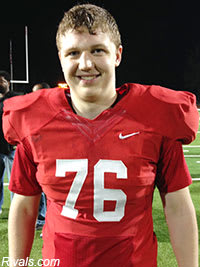 Over the past few recruiting cycles
Ole Miss
has made the city of Nashville, Tenn. a priority and earlier this week the Rebels scored one of their biggest recruiting victories in the city, nabbing Rivals250 offensive tackle
Bryce Mathews
away from several other SEC rivals.
Mathews said he didn't take the decision lightly, but ultimately he felt like Oxford was the perfect fit.
"It was really the hardest decision I've ever had to make but I felt really drawn to the place," said Mathews, the No. 189 overall player in the country. "I really like the atmosphere I really like the coaches and just what they're about. Just knowing people that are going down there and being in the SEC I know it's the right place for me. Of all the schools I visited I felt more at home at Ole Miss and it just felt like the right fit."
With schools like Clemson and Tennessee also working hard to land Mathews, he said he thought about waiting to make the decision, but wanted to lock in his choice before his senior season started.
"I wanted to do it now rather than later because lord willing I won't get hurt, but even if I do I'll still have a place to go," Mathews said. "Now that it's done it also allows me to focus on my senior year and trying to help my school win a state championship."
The Rebels success in Nashville over the past few years also played a factor and Mathews said he already has several friends on the current roster.
"Dawson Knox graduated from my school and walked on there and I'm also friends with his roommate Alex Givins, who went to Nashville Christian," Mathews said. "I've been in touch with both of them and I know Van Jefferson, another guy from my area, and the long snapper at my school, Jack Propst, is going to Ole Miss, too so that will give me plenty of guys that I know there."
While assistant coach Maurice Harris played a major part in Mathews recruitment, he also said his relationship with his future position coach, Matt Luke, played a major part.
"He's been really great throughout the whole process," Mathews said of Luke. "He and Coach Harris have both done a great job recruiting me and they have been great to my family. Everything I've needed or had questions about they have been there for me and I couldn't have asked for anything more."
During his trips to campus Mathews said he's had the opportunity to bond with five-star Rebels quarterback commit Shea Patterson and he can't wait for the opportunity to block for his future teammate.
"It's a big draw to play with a top guy like that," Mathews said. "Being able to lead a really good team in a really good conference is really attractive and it's something that really drew me to the place."
So will Mathews push for playing time early in his career in Oxford? He said nothing has been promised to him and that he's more than happy to play whatever role is asked of him, even if that means waiting a year to get on the field.
"Coach has always told me that it depends on how I do when I get there," Mathews said. "He said it could go either way depending on how I do and how other guys do, I could have the potential to play early or I could redshirt. Honestly I'm open to both because I think there's a benefit to both. If they want me to redshirt to take a year and get bigger and stronger than I'm OK with that but if there's a chance to play obviously I would like that, too."
Mathews is commitment No. 18 for the Rebels in the 2016 class and the seventh player ranked as a four-star or higher. He joins four-star tight end Gabe Angel and three-star linebacker Tariqious Tisdale as prospects from Tennessee to commit to Ole Miss in the class.