Massie adds an SEC offer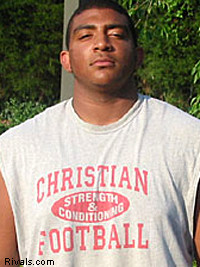 Lynchburg (Va.) Liberty Christian Academy offensive tackle
Bobby Massie
added another offer not too long ago. The 6-foot-8, 335-pounder picked up the scholarship from the SEC.
"I got an offer last Wednesday from Tennessee," he said. "I actually don't know a whole lot about their program. I'm doing my research on them. I know it's a big school and one of the top ones in the SEC that puts out a lot of players. They have a pretty good coach too."
Aside from the offers, Massie has two officials set up for Clemson on December 1st and Georgia on December 8th.
"I'm also looking at one to North Carolina possibly the third week of December. There may be one to Virginia Tech too. I'm not really sure when."
The three-star prospect is looking at one unofficial possibly to North Carolina in the next few weeks.
At this time, Massie claims there are no leaders for his services.
On the field, the No. 44 offensive tackle in the country kicked off the season last week with a win 41-7.
"I played well in the first game. I had four tackles, two sacks and two pancakes on offense," he said. "I thought I could have done better, but I made up for it on defense.
"Now we're preparing for our game against Christchurch. It's going to be a big game with a lot of hitting going on."