Making The Case: Who should be the top-ranked CB in 2022?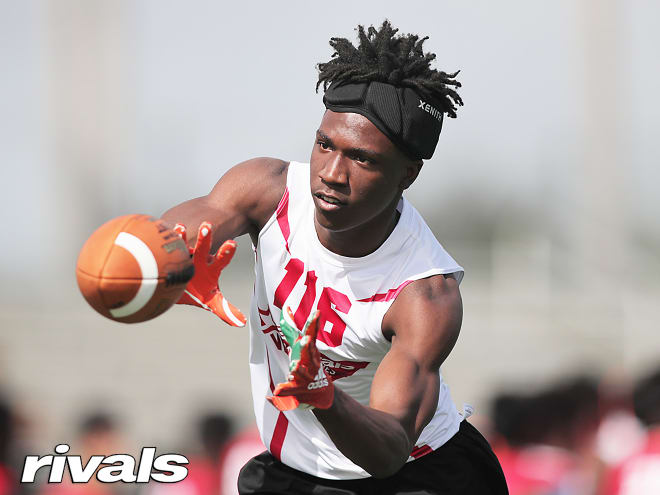 The highly anticipated 2022 rankings update is ready for the upcoming week and there were several debates at each position. In a preview of what is to come in the updated rankings, National Recruiting Director Adam Gorney and National Recruiting Analysts Adam Friedman, Sam Spiegelman and Josh Helmholdt take a look at the cornerback position and give their individual thoughts on how the four five-star prospects at the position should be ordered.
ADAM FRIEDMAN: Jaheim Singletary
I like Jaheim Singletary at the top right now because of his versatility. He can play cornerback or safety, has the ball skills, and he's battle tested. Denver Harris is the fastest of the group and has textbook shutdown cornerback abilities, but I want to see what he does when he's healthy again. Domani Jackson is a physical and technically sound cornerback but can get caught flat footed at times. Will Johnson is the one I know the least about but his measurables and game film are excellent and I'm looking forward to seeing what he can do against some elite competition later on this summer.
*****
ADAM GORNEY: Jaheim Singletary
I would have Jaheim Singletary, Domani Jackson, Denver Harris and then Will Johnson in that order. Singletary's length and playmaking ability set him apart in this group but Jackson is super talented as well, physical, tough and can lock down receivers on an island. I like Harris, too, he picks off passes and can run with any receiver but I'd like to see how he comes back from that knee injury before moving him too high up the list. Johnson is the biggest of the bunch and I like how physical he is jamming receivers at the line of scrimmage but I do wonder about his top-end speed. All four are very talented players and different in some ways as well so it's really whatever you prefer out of your cornerbacks. Singletary is tops for me because of his aggressive style, his length and his ability to pick off passes that other cornerbacks would have trouble getting to.
*****
JOSH HELMHOLDT: Will Johnson
Before I break down how I see these four five-star cornerbacks stacking up against each other, I want to note the unique relationships amongst this group. Domani Jackson and Will Johnson have become close friends through this recruitment process. Two of these prospects are committed to bitter Big Ten rivals. I think we're going to be talking about this group of cornerbacks for several years, much like we talked about the Trevor Lawrence-Justin Fields quarterback duo from 2018. Domani Jackson's junior season did not quite live up to expectations and I think he should fall out of the top spot for now. I do agree that Singletary should be at the top because of his upside, but I think Johnson may be the most sure thing out of these four right now while we wait to see how Denver Harris comes back from his knee injury.
*****
SAM SPIEGELMAN: Jaheim Singletary
Jaheim Singletary is a fluid athlete with outstanding upside and would be a fitting new No. 1 cornerback in the country. During an in-person evaluation this spring, coverage came natural to the Ohio State five-star commitment, who made plays on offense and defense in the 7-on-7 circuit. Denver Harris is still certainly a candidate to finish the cycle in the top spot. Of course, the five-star boasts sub-4.4 speed and is coming off a junior season in which he had multiple interceptions -- including a few returned for touchdowns -- along with an outstanding track record of locking up elite receivers and being physical against the run and the pass. If healthy this fall, Harris will put himself in the conversation as the No. 1 corner in the country. Let's not rule out bounce-back seasons from Jackson or a surge from Johnson. However, it's clear that this lead group of corners is absolutely fantastic and sets the stage for a great debate entering their senior seasons.