Making the Case: Which RB deserves to occupy top spot?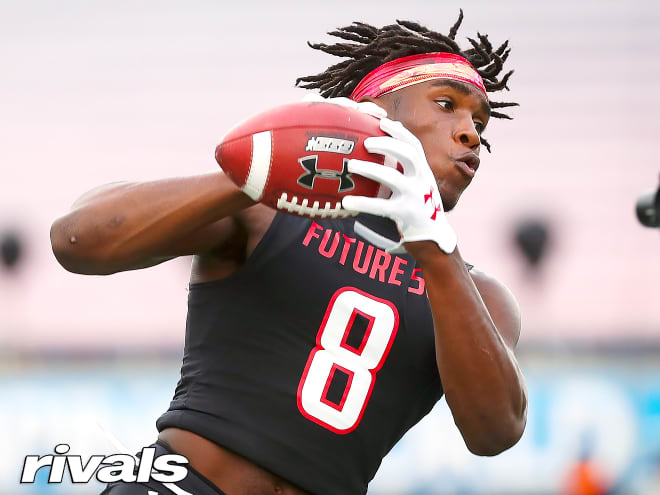 The Rivals analyst team will unveil its final installment of rankings for the 2020 class next week. One of the most highly discussed topics is which running back deserves to finish in the top spot.
Tank Bigsby currently occupies the No. 1 spot, but an underwhelming performance at the Under Armour All-America Game in Orlando has paved the way for a new tailback to be crowned. Rivals.com analysts Sam Spiegelman, Rob Cassidy and Adam Gorney state their cases for which running back is deserving of the top spot.
MORE: Who should be the top-ranked QB in 2020? | Who should lead safety rankings?
CLASS OF 2020 RANKINGS: Rivals250 | Position | Team | State
*****
ZACHARY EVANS 
One of the reasons for Evans' slide in recent months has been the number of off-the-field issues popping up surrounding the five-star running back, who's talent has never been in question.
Evans reminded us of how much of a game-breaker he can be at the next level with a really strong showing at the Under Armour Game last month. If he had come out and admitted he signed with Georgia and that his recruitment is over, there might be less fire fueling this debate. But, of course, that's not the case.
Evans has a great blend of power and elusiveness, he's dynamic in the open field and is a threat to break one loose for a score any time he touches the rock. He is the most talented running back in this class by a good bit.- Southwest Recruiting Analyst Sam Spiegelman
*****
BIJAN ROBINSON  
There are a lot of reasons to believe Robinson should be the No. 1 running back in this class and it started this past summer when he absolutely dominated the Rivals100 Five-Star Challenge and proved he not only looks great and runs the ball well but he can also catch it out of the backfield.
Those thoughts continued into his monstrous senior season, during which Robinson completely dominated with 126 carries for 2,235 yards and 38 touchdowns while averaging a mind-boggling 17.7 yards per carry. He only caught 12 passes, but he averaged more than 26 yards per reception, which almost seems like a misprint.
Robinson is physically ready to play in the Big 12, and he's going to be outstanding pounding the ball in Texas' offense or getting out in space and making things happen. He had a quiet week at the All-American Bowl and that was a little surprising, but it's clear he's muscled up, he takes to coaching and he has rare physical abilities.
The Longhorns need to figure out ways to get him the ball and if they do he can be the next big-time star in Texas' backfield. Every other running back at the top of this class has some question marks. I don't see many with Robinson. - West Coast Recruiting Analyst Adam Gorney
*****
DEMARKCUS BOWMAN  
I'm not hyper-bullish on Bowman as the no-doubt No. 1 running back in the class, but I certainly think a case for that can be made. Scouting opinions of Bowman sometimes take a hit because he shies away from all-star settings and elite camps, but that shouldn't hurt him much.
I think that sort of thing is cause for concern in some cases, but not for Bowman, as the Lakeland (Fla.) High School tailback plays in one of Florida's largest classifications and produces on a consistent basis. It's difficult to argue with high-level production and, in the end, that's what all of this is about. - Florida Recruiting Analyst Rob Cassidy