Making The Case: Warren Burrell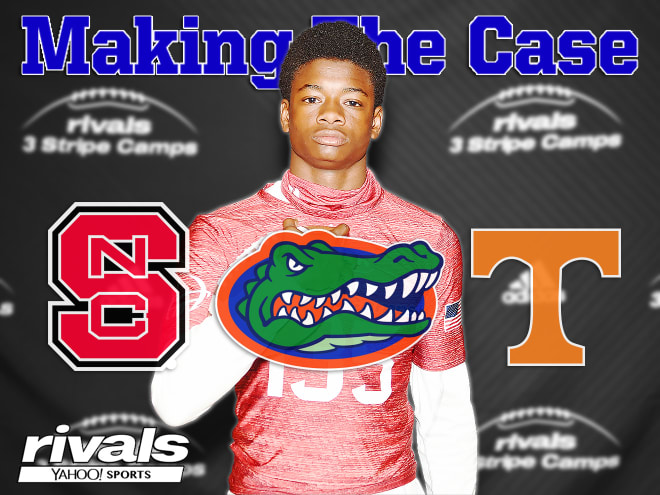 MORE: Rivals100 DE set to commit on Tuesday
The 2019 class is on the clock and several of the nation's top players have begun to cut their lists in advance of a commitment announcement before the season kicks off.
Today, experts from the Rivals.com network examine where four-star cornerback Warren Burrell might end up playing his college football. The candidates are Florida, NC State and Tennessee.
THE SITUATION
Has a decision been made? Burrell has set his commitment date and he will commit to the Gators, Wolfpack or Vols on July 27. He has taken official visits to all three programs and he is likely to visit the program he commits to this weekend. Each team has shown Burrell their plan. The chance to see the field early is what has put this trio of schools in this position. There has been chatter about his recruitment possibly being down to NC State and Tennessee, but Burrell has stated that it is a tight race between all three of his finalists. With a decision coming into focus, we asked our team experts to state the case for their respective programs and let National Recruiting Director Mike Farrell issue a verdict.
FLORIDA
"One of the schools tagged as 'DBU,' Florida hosted Burrell multiple times throughout the offseason, including for his official visit back on June 8. The four-star cornerback covets early playing time and the staff assured him that they have a need for his length and speed in the secondary. Cornerbacks Marco Wilson and C.J. Henderson are entering their sophomore seasons and could be NFL-bound after the 2019 season, so Burrell could also learn from some of the best during his freshman campaign. Dan Mullen, defensive coordinator Todd Grantham and cornerbacks coach Charlton Warren are actively recruiting Burrell and pushed all the right buttons with his parents during the official visit weekend as well. Tennessee has been trending for a couple of months now, but Burrell is seeking early playing time and a top-notch education, and Mullen's program can offer both.." — Corey Bender, GatorTerritory.com

NC STATE
"NC State has a need at corner. It could be starting a senior and junior this fall, and thus playing time will be available for Burrell when he arrives. There is also just one more cornerback spot remaining in the class, and Burrell has the opportunity to grab it. He can also join a good contingent of Georgia natives coming to Raleigh. Fellow Georgia corner Taiyon Palmer signed with NC State last year, and three top-110 recruits in the state have committed to the Pack this year in running back Jamious Griffin, center Dylan McMahon and defensive back Jakeen Harris." – Matt Carter, TheWolfpacker.com

TENNESSEE
"Burrell has been at or right near the top of Tennessee's cornerback board for months. Jeremy Pruitt & Co., love his length and ball skills. Burrell has been a frequent visitor on campus, too, making at least three trips to Knoxville since March, including an official visit at the beginning of June. He's developed strong relationships with Pruitt and cornerbacks coach Terry Fair, and Tennessee's wide open depth chart is very attractive to Burrell. While it's been a bit odd that UT doesn't have a 2019 CB commit yet considering Pruitt's track record at the position, it's been clear recently that the Vols have positioned Burrell to be the first one in the boat to really get that momentum started." – Jesse Simonton, Volquest.com

VERDICT
"I'll go with the Vols for Burrell as he's been linked to them for a long time and I think he likes the direction Jeremy Pruitt is taking the Tennessee defense." – Mike Farrell, Rivals.com National Director of Recruiting