Making the Case: Shawnkel Knight-Goff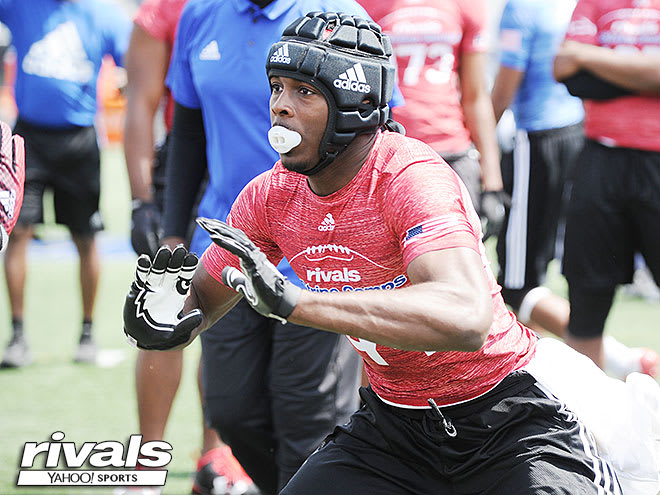 The early signing period is rapidly approaching, leaving just two months until most of the nation's top prospects will sign their official letters-of-intent. With that in mind, several elite players have started to narrow down their lists and prepare for commitment announcements. One of those players is three-star Kentucky defensive end Shawnkel Knight-Goff, who will announce his decision Friday night.
Today, experts from the Rivals.com network examine where the versatile prospect will land. The candidates are Louisville and Kentucky.

STING FACTOR: Georgia loses RB John Emery

THE SITUATION
Knight-Goff's recruitment has seen plenty of twists and turns, including a spring commitment to Kentucky that lasted just two weeks. With that quick commitment and de-commitment, most thought it would be a matter of time before he ended up staying close to home with the Cardinals. But it's been months since that went down, with Knight-Goff taking a step back and revaluating what both schools have to offer. With his decision imminent, where will he end up?
THE CASE FOR KENTUCKY
"Kentucky has continued to aggressively recruit Knight-Goff since his decommitment and the big goal has been making sure everyone involved is comfortable with the timing and what he decides. His relationship with Vince Marrow, history with UK and the Cats' season are reasons I think he ends back with Kentucky." – Justin Rowland, CatsIllustrated.com

THE CASE FOR LOUISVILLE
"Knight-Goff is an athletic and versatile prospect that plays for Doss High School, basically in U of L's back yard. Looking at Knight-Goff as a prospect, it's easy to see his potential given he can line up at wide receiver one moment and defensive end the next.

"The Louisville coaching staff has been on the three-star prospect for quite some time now and has had him visit countless times. Despite these visits to Louisville, Knight-Goff has also visited UK on multiple occasions and has seemed to develop a solid relationship with the coaching staff in Lexington.

"Over the past several months the momentum in his recruitment has shifted towards the Wildcats starting when Knight-Goff committed to UK early in the summer, despite it being short-lived, which is why I think Kentucky will be the choice for him." – Chris Person, CardinalSports.com
THE VERDICT
"I think he re-commits to Kentucky as he likes the direction of the program, they have their ace recruiter Vince Marrow making him a priority and he already felt comfortable enough to commit once." -- Mike Farrell, Rivals.com