Making the Case: Nick Petit-Frere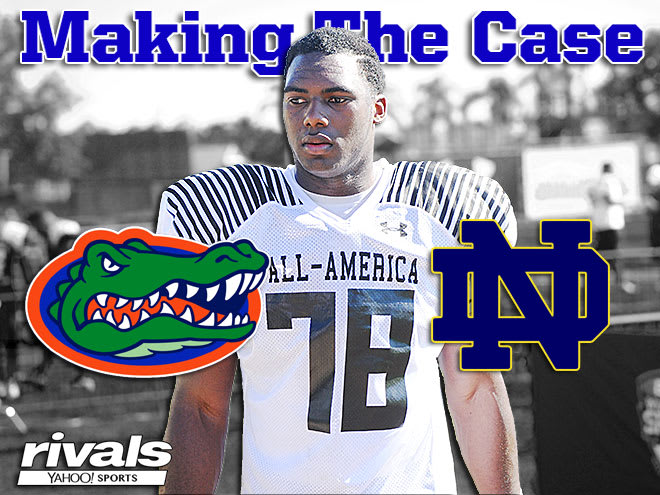 With National Signing Day right around the corner, several of the nation's top prospects are nearing final decisions in advance of officially signing their letters-of-intent on Wednesday.
CLASS OF '18 RANKINGS: Rivals250 | Team | State | Position | JUCO
Today, experts from the Rivals.com network examine where five-star Tampa (Fla.) Berkeley Prep offensive tackle Nick Petit-Frere will end up playing his college football. The candidates are Florida and Notre Dame.
THE SITUATION 
Petit-Frere's recruitment has moved along in phases, with several different programs looking like they were in the lead at different junctures. Despite an announcement coming next week, Petit-Frere still has an official visit to Ohio State this weekend. The Buckeyes will join Alabama and Michigan as programs that hosted Petit-Frere and could pull a surprise and land his commitment.

But for today's exercise we focus on the two programs mentioned most as his future destination: Florida and Notre Dame. Petit-Frere took his official visit to South Bend in the fall and since then the Irish have been major players. Florida remained in the picture despite a coaching change and word is Petit-Frere loved his official visit to Gainesville last weekend. So where will he end up? We asked our team experts to state the case for their respective programs and let National Recruiting Director Mike Farrell issue a verdict.
FLORIDA
"First and foremost, I'm not sure anyone really knows where Petit-Frere will sign at this time, perhaps even Petit-Frere himself. However, I don't believe it is still truly the five-team race that earlier this week Berkley Prep head coach Domminick Ciao made it out to be. He may not come out and say where he stands, but Petit-Frere is too thoughtful of a young man to not have narrowed it down by now after taking all but his final visit this weekend. Because of coaching changes and what he is looking for in terms of academics and athletics, this feels more and more like a two-team race between Florida and Ohio State." – Mark Wheeler, InsideTheGators.com
NOTRE DAME
"There is really no better match for each other than Notre Dame and Nick Petit-Frere. The five-star OT is serious about academics, and that's a big reason why the Irish have been a big player for him for a long time. Both Petit-Frere and his mother loved both visits to South Bend, and the Notre Dame coaching staff has made a big impression. Notre Dame has stayed in it, despite the loss of offensive coach Harry Hiestand because offensive coordinator Chip Long and running backs coach/Florida recruiter Autry Denson have put in a ton of effort as well. Notre Dame just sent head coach Brian Kelly, new offensive line coach Jeff Quinn, Long and Denson to Florida for an in-home visit, and feedback from that trip has been positive. With the lack of information out there, there's no reason to believe Notre Dame can't pull this one off." – David McKinney, BlueandGold.com

THE VERDICT
"No one seems to know on this one, so I'll go with Florida since they are local and have been linked to Petit-Frere the longest. It could be any of his finalists, as he's not going to make a decision based solely on location. But he has the best connection and comfort level with the Gators." – Mike Farrell