Making the case: LaBryan Ray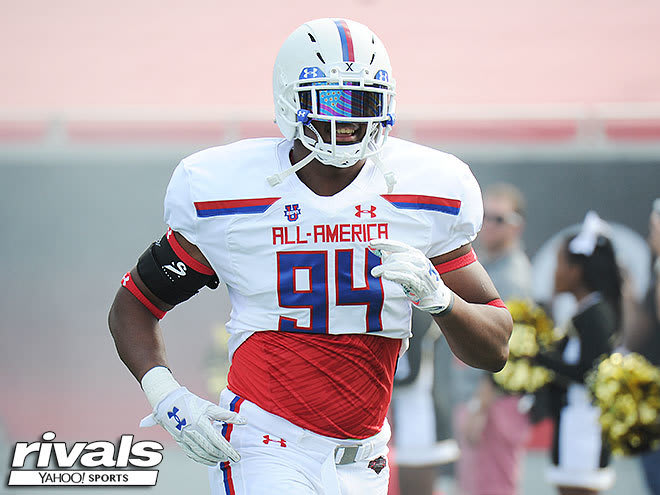 With National Signing Day less than a week away, the majority of the nation's top recruits are already committed. But a few remain undecided, and a few commits are wavering on their choices.
Today, experts from the Rivals.com network examine where Rivals100 defensive end LaBryan Ray will land. The candidates are Alabama, Tennessee and Florida.
MAKING THE CASE: Marvin Wilson | Jamyest Williams
The situation: Ray is one of the top defensive linemen in the class and, because of that, it's no surprise to see a trio of SEC rivals battling for his services down the stretch. He's already visited Alabama and Tennessee and is spending this weekend officially visiting Florida. So how will it all shake out? We asked our team experts to state the case for their respective programs and let National Recruiting Director Mike Farrell issue a verdict.
Tennessee: "First of all, I think it's impressive that we are even talking about Tennessee being a factor this late in the game. Tennessee quality control assistant Walt Wells has known the family for years and has been recruiting Ray for well over a year. Ray saw the Vols' win over Florida and was at Georgia for Tennessee's miracle finish. He's been on Rocky Top multiple times. His comfort level with the Tennessee staff has kept the Vols in it to the finish. Tennessee got the last in home visit on Thursday night which included half the Tennessee staff and Ray visits with Wells via phone/text on a regular basis." Brent Hubbs, VolQuest.com
Florida: "The Gators have recruited the state of Alabama much harder since the arrival of Jim McElwain, and have made Ray a huge priority. Defensive line has been a big need for Florida, so Ray would be a guy coming in to play meaningful snap very early. The Gators have been known for strong defensive play, and need guys like Ray to continue that tradition." Blake Alderman, InsideTheGators.com
Alabama: "Ray has taken several trips to Alabama in the last year. He has been a top priority for the Crimson Tide since day one of his recruitment. He also has a few close friends, Kyriq McDonald and Kendall Randolph, on the Alabama commitment list. Alabama doesn't often lose the top player in the state especially at a key position of need." – Andrew Bone, TideSports.com
The verdict: "Alabama is the pick for me and has been for a long time. I think it would be a big surprise if he chose anyplace else because of the relationships he has with the Bama staff and players on the team. And Nick Saban doesn't lose in-state players he covets very often and the Tide really want this kid." – Mike Farrell, National Recruiting Director