Making the Case: Harrison Bailey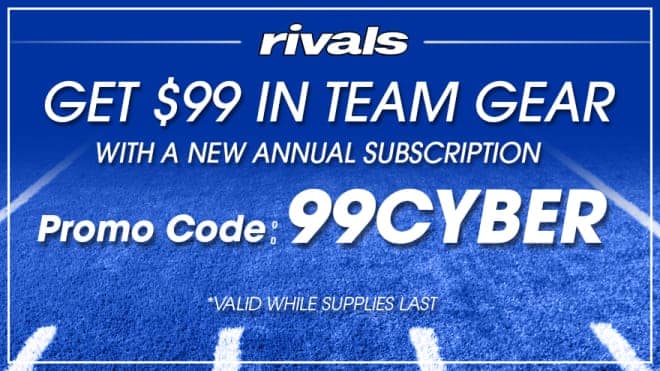 THE SITUATION 
Bailey was offered by Miami first — while he was still in middle school. He may only be midway through his junior year, but Bailey is a veteran on the recruiting trail. He held multiple offers before he started high school, so he has been around, developed strong relationships and seen all he needed to see.
Bailey is set to announce his decision Thursday and both the Wolverines and Vols have made their cases. Each school has had him on campus this fall. Tennessee has a teammate, wide receiver Ramel Keyton, committed in the 2019 class, and Bailey has been a high priority for the Vols since Jeremy Pruitt took over. Jim Harbaugh and Michigan have made a big push over the last couple of months.
With a decision coming this week, we asked our team of experts to state the case for their respective programs, and then let National Recruiting Director Mike Farrell issue a verdict.
MICHIGAN 
"Harrison Bailey is getting attention from a lot of programs down South, and then Michigan. Obviously, the Wolverines seem to be the odd man out in his recruitment, but passing game coordinator Pep Hamilton is the difference-maker here.
"Bailey refers back to one of his first meetings with Hamilton whenever he talks about Michigan, and he loved how Hamilton shot him straight. There was no sugar-coating or blowing smoke, and Bailey really took that to heart. Hamilton didn't tell Bailey everything he wanted to hear. Instead, he coached him up and actually critiqued what he saw out of Bailey on tape — and he wasn't gentle about it.
"Bailey wants to be great, and he sees Hamilton as someone who can help get him there. Throw in the fact that head coach Jim Harbaugh is also a former quarterback and Michigan suddenly feels like the obvious choice instead of the outlier." — Brandon Brown, TheWolverine.com

TENNESSEE
"Harrison Bailey plays things rather close to the vest, so getting a real read on the four-star quarterback is tough. Still, Tennessee has been right at the forefront of Bailey's recruitment for months. He's visited Knoxville four times since Jeremy Pruitt took over, including attending three games this season. Between Tennessee and Michigan, the Vols were the last school to get him on campus, as Bailey made the short trip for the Missouri game.
"Tennessee has also discussed the option of reclassifying to the 2019 class with Bailey, and the quarterback is at least open to the idea. He's made no final decision there though, no matter where he commits Thursday. Bailey really respects Pruitt, and the Vols do have several ties with Marietta. They're actively recruiting multiple Blue Devils and have a commitment from Bailey's favorite target in four-star wideout Ramel Keyton.
"While the Vols seemed to have a little momentum with Bailey, the recent news of offensive coordinator Tyson Helton's departure could have an impact on his decision. Is Bailey close enough with Pruitt that he simply commits without knowing the direction of the offense? We'll see." — Jesse Simonton, VolQuest.com

THE VERDICT 
"This is an educated guess, but I think Bailey ends up at Michigan. He had a great visit, Jim Harbaugh is a former quarterback himself and impressed Bailey and his family, and I think Bailey sees a chance to win a national title there. Tennessee could be the choice as it is closer to home, but I'll pick Michigan." — Mike Farrell, Rivals.com