Making The Case: Four-star ATH Devonta Lee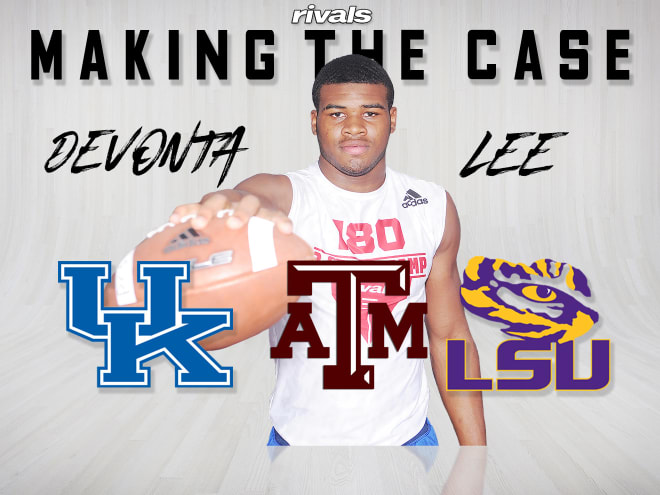 National Signing Day is rapidly approaching, with less than a day until the remaining unsigned top prospects sign their official letters-of-intent. With that in mind, several elite players have started to release their final lists and prepare for commitment announcements. One of those players is Rivals250 athlete Devonta Lee, who is set to announce his decision on Wednesday.
Experts from the Rivals.com network examine where Lee, a star athlete out of Amite (La.) might end up playing his college football. The candidates are LSU, Kentucky and Texas A&M.
MORE MAKING THE CASE: Lance Legendre | Charles Moore | Ishmael Sopsher

THE SITUATION
Lee has never officially cut his list down or named true favorites or finalists. You track the visits, you reach out to your sources, and as we approach National Signing Day, Lee looks to be headed to play in the SEC. Arkansas, Alabama, Ohio State and numerous other schools are out of the mix and we know Lee will call Baton Rouge, Lexington or College Station his next home.
Could he leave the state? It is very possible. Some have called the Aggies the dark horse. He has visited there twice and they have been consistently recruiting him as hard as anyone since the summer. Kentucky has made the biggest push in recent months, making most view the Wildcats as a legit contender after his official visit in the fall. LSU is the home-state school, so the Tigers have always been looked at as the favorite.

This one is a little tighter this late in the process than most expected though. With the public decision coming soon, we asked our team experts to state the case for their respective programs and let National Recruiting Director Mike Farrell issue a verdict.
LSU
"As Lee weighs the business aspect of his college decision, home-state LSU sends as many players to the NFL as any other program and showed signs this year of an offense that will utilize more weapons in more capacities than in some time. But long before the process became so complicated, a young Devonta grew up an hour from Baton Rouge discussing big dreams with best friend Trey Palmer of being Tigers together one day. Palmer signed in December. Proximity to family, a close relationship with recruiter Mickey Joseph and an evolving offensive attack provide Lee plenty of reasons to stick to his lifelong plan of staying home for college." — Jerit Roser, TigerDetails.com

KENTUCKY
"Everything I heard after Lee's official visit to Kentucky leads me to believe the trip went very well. His teammate and quarterback, Amani Gilmore, is committed to Kentucky and the two are very close. There has always been a sense that Lee might not be a lock to stay in Louisiana and could be more inclined to buck some historical trends than other guys from down that way.

And there's the question of what position he will play in college. Lee wants to be a receiver and Kentucky is telling him he can be a WR1 type with immediate playing time, whereas there might be more of a question as to what position he might play at other schools." — Justin Rowland, CatsIllustrated.com

TEXAS A&M
"Let's not kid ourselves: Lee is going to end up as a linebacker somewhere. The Aggies are just being honest with him. And, frankly, they could use a player of his tremendous talent. With the losses of Tyrel Dodson and Otaro Alaka, A&M is rebuilding their linebacking corps and Lee would join a group of very talented, but inexperienced, players at the position. He could play from day one, as opposed to going elsewhere, sitting for a season as a wideout and then having it "suggested" that he move to defense." — Mark Passwaters, AggieYell.com

THE VERDICT
"Lee chooses LSU in the end. It's very hard to get in-state kids away from LSU and the Tigers get the last shot, so you have to assume they will close the deal." -- Mike Farrell, Rivals National Recruiting Director