Making the Case: Four-star ATH Wandale Robinson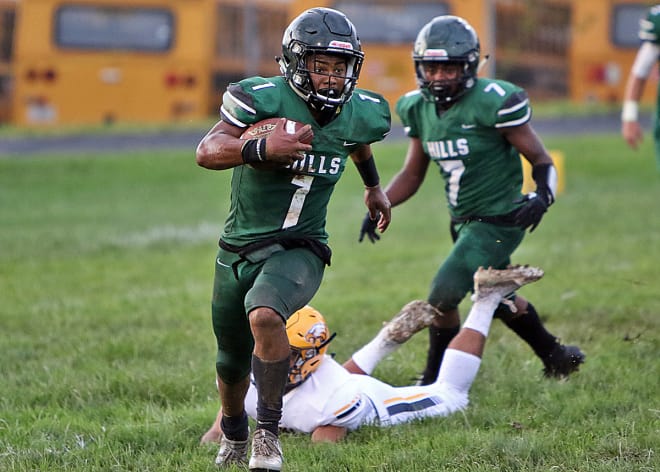 The Early Signing Period is rapidly approaching, leaving less than two months until most of the nation's top prospects will sign their official letters-of-intent. With that in mind, several elite players have started to narrow down their lists and prepare for commitment announcements.
One of those players is four-star Kentucky athlete Wandale Robinson, who will announce his decision Thursday.
Today, experts from the Rivals.com network examine where the versatile prospect will land. The candidates are Kentucky, Alabama, Nebraska, Purdue and Ohio State.
MORE: Breaking down the path to the College Football Playoff
THE SITUATION
Robinson burst onto the scene over the spring, going from a well-regarded three-star into a full-fledged national recruit. Offers rolled in from all over, and Robinson and his family did their due diligence, taking five official visits and also spending plenty of time at nearby Kentucky. The pressure is on for Robinson to stay close to home and bring his much-needed skills to the Wildcats, while the other four programs on his final list are pitching him on being the next big player in already impressive offenses.
With his decision imminent, where will he end up?

THE CASE FOR ALABAMA

"Robinson shined at Alabama's camp in June when he earned an offer from Nick Saban. Numbers are very tight in Tuscaloosa with 21 commitments. Alabama also may only sign one or two receivers in this class. It has John Metchie on board and the Crimson Tide hope to flip George Pickens away from Auburn. Robinson is recruited more as an athlete by Alabama and hasn't really settled in on which position he will play. Alabama would not turn down a commitment from Robinson, but he has probably been more of a priority target for other schools." – Andrew Bone, BamaInsider.com
THE CASE FOR KENTUCKY

"Recently I changed my pick to Nebraska because I do think its persistence has paid off, but Kentucky clearly wants Robinson badly. Remember, UK is one recruiting class removed from missing out on in-state prospect Rondale Moore, who has set the college football world on fire at Purdue. The two are not identical players, but the similarities are undeniable. Kentucky believes Robinson can be something of the same kind of all-purpose threat that Lynn Bowden could be and he's the kind of guy who needs the ball in his hands because he's dynamic. If Robinson picks Kentucky, it will be because he's been around the program so much and does have some connections there, but again, I am leaning toward the Cornhuskers." – Justin Rowland, CatsIllustrated.com
THE CASE FOR NEBRASKA
"Robinson seems to be a human highlight reel with the ball in his hands. It doesn't matter if he's toting the rock as a running back or making impressive catches as a receiver look routine. The dynamic athlete could project as a running back or a wideout at the next level and that's exactly why Robinson would be such a great fit for Nebraska.
"The Huskers are recruiting Robinson to play the "Duck-R" position, which is a combination of running back and slot receiver. Despite going through a transition year, Scott Frost has already got the Big Red offense averaging over 470 yards per game. It's a fun offense for playmakers to be part of and one thing that many prospects have taken notice of is its currently being run by a true freshman quarterback, Adrian Martinez, who has already set records through the first seven games of his young career in Lincoln.
"Aside from being a great fit in Frost's fast-paced and exciting offense, Robinson has felt the love from the Huskers' coaching staff for a very long time now. NU has made sure the Kentucky native knows he's a priority and he's consistently said Nebraska is the team that has been recruiting him the hardest." – Nate Clouse, HuskerOnline.com
THE CASE FOR OHIO STATE
"Ohio State has picked up so much ground with Robinson since just the beginning of September. Interim wide receivers coach Brian Hartline has made Robinson a top priority since taking over for Zach Smith and that resulted in not only Ohio State getting an unofficial visit in September but securing Robinson's final official visit in October. The early playing time is there with Paris Campbell graduating and K.J. Hill likely heading to the NFL.

"All of that said, there is very real reason to believe that the pick could be Nebraska on Thursday for Wandale and I might be inclined to lean that way at this point. I think it comes down to the Cornhuskers and Buckeyes for his services." – Marc Givler, BuckeyeGrove.com
THE CASE FOR PURDUE

"Purdue showed Robinson first-hand how it would use him because it's exactly what it's doing right now with Rondale Moore and the two are very much alike. In the end, I don't know if that helped Purdue more than it hurt Purdue, though, because Moore is back for at least two more seasons barring anything unforeseen, and how many of the same player can a team effectively have? My sense is he's going to go be somebody else's Rondale Moore. Purdue did a good job recruiting Robinson just to get as far as it did, if you ask me." – Brian Neubert, GoldandBlack.com

THE VERDICT
"He seems to be leaning toward Nebraska at this stage and I think he feels he's a great fit for its offense and will be featured there." – Mike Farrell, Rivals.com