Mack preparing for Tennessee visit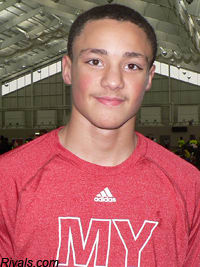 Mack will be in Knoxville on Saturday and will likely be accompanied by a family member and one of his coaches.
"Hopefully we are going to have a successful visit this weekend and we'll see what happens from there," Mack said. "I am just excited to have a great time and catch up on lost time I've gained with other schools I've been able to visit multiple times."
"They showed me around at the pediatric hospital, which is the profession I want to get into. I got to meet with a couple and it was an awesome time. I got to talk to Jim Harbaugh and pick through his head and ask him some questions."
"I have visited all those schools so far and for me I just hope I am able to pick out the best school that has the best fit for me," Mack said.
After Tennessee, Mack does not have any further visits planned and is not sure if he will take additional trips. He does not have any set favorites at this time, but could post a list the week leading up to his announcement.
The 6-foot-2, 205-pound Mack had close to 1,000 receiving yards and scored 22 touchdowns as a junior for Fort Wayne (Ind.) Bishop Luers. He is ranked as the No. 38 wide receiver in the 2016 class and top prospect in the state of Indiana.