LSU keeps four-star QB Rickie Collins home with commitment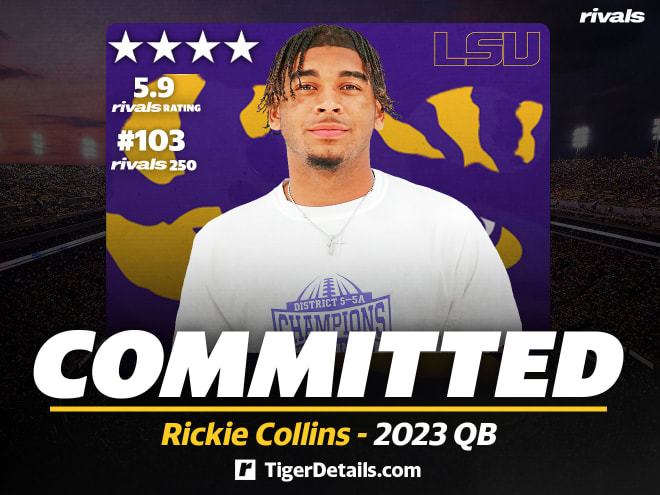 Baton Rouge (La.) Woodlawn four-star quarterback Rickie Collins has committed to LSU, as the nation's No. 2 ranked dual-threat quarterback completes the flip from Purdue to remain in the state capital.
Collins, who was committed to Purdue for almost ten months, decommitted from the Boilermakers on Aug. 1 amid pressure from LSU following the Tigers making him priority number-one in the late summer. The work from quarterbacks coach Joe Sloan to seal Collins ahead of the season can be seen as a big win for an LSU 2023 class that definitely felt the summer heat on the recruiting trail and responded in a big way.
Upon entering the summer, Florida State, Oregon and Arkansas were some of the other teams involved with Collins, but as the quarterback dominoes fell and placements became clear, LSU was almost the no-brainer decision after his decommitment.
While he is a true dual-threat, Collins' athleticism isn't a sacrifice to him being able to make tough throws downfield in tight windows. Add in the layer of his game that allows him to make plays with his feet, and it makes sense as to why multiple Power Five programs were pushing to pull him from Purdue. A finalist at Elite 11 this summer, Collins proved his status as a signal-caller worthy of being in the national discussion despite some struggles throughout the week.
Collins will need some development after his move across town to the campus of LSU, but after two years in the offensive system, Collins should be ready to take the field as a legitimate weapon in the SEC. In that time, physical development and his game processing will need to improve in order to hit the field in 2025 and beyond.
At 6-foot-3, 181 pounds, Collins is the No. 103 ranked recruit in the country for the class of 2023, according to Rivals. He is the No. 8 recruit from the state of Louisiana and the No. 2 dual-threat quarterback in the country. His commitment gives LSU 19 pledges in the 2023 class and keeps the Tigers firmly in the top ten of the 2023 team rankings.