Love: Big man with room to grow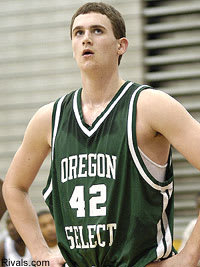 When Minnesota general manager Kevin McHale made teenager Kevin Garnett the No. 5 pick in the 1995 NBA draft, many thought he was crazy.
Nine years, seven all-star appearances and an MVP award later, no one doubts the wisdom of the GM or talent of Garnett.
From Garnett to Kwame Brown and Dwight Howard, most of the top NBA picks from high school have been big men. The difference between Garnett's soaring success and Brown's flagging statistics has been the willingness of the Timberwolves' star to assert himself as an inside presence.
In the high school prep ranks, there is a power forward becoming one of the most dominant and consistent in the nation. His constant banging on the boards and tough attitude in the post have set him apart from nearly all competitors on the top-flight AAU circuit, and he is beginning to draw comparisons to All-Star NBA names like Tim Duncan and Brad Miller.
The scary part: He's only 15.
"HE'S ALREADY BETTER THAN A LOT OF THE NBA HIGH-SCHOOLERS"
Imagine waking up every morning and rolling out of bed to strap on a knee brace with thoughts of a hook shot soaring through your mind.
It's not the most romantic image for a teenager entering his prime, but
Kevin Love
doesn't care. The 6-foot-8, 240-pounder cares only about winning basketball games, and he's proven that he's willing to do almost anything to get it done.
Love was targeted as a top prospect before he spent a day on a high school campus. The son of Stan Love, who ranks fourth in career scoring at the University of Oregon, and the nephew of former Beach Boy Mike Love, Kevin has grown accustomed to living under a glare of the celebrity spotlight.
If the results of his freshman season are any indication, he may have to get even more comfortable with it as he gets older. In his first stint with the previously unheralded Lake Oswego varsity team, Love averaged 22 points, 14 rebounds and four blocked shots a game, the state's second-best average in scoring and shooting percentage and best in rebounds and blocks. More impressively, he racked up the stats while battling back from mononucleosis, which forced him to sit out two weeks in the middle of the season.
By year's end, Love had his team in the state tournament, nearly leading them to the title as a freshman.
Behind the immense talent is Love's massive frame. Make no mistake, there are not many 6-foot-8, 240-pound freshmen to be found in the high school ranks.
"He's a really big, strong kid," TimWatts, who heads up Rivals.com's national basketball recruiting, said. "He's physically mature already."
Doctors have told Love he can expect to grow up to 7-feet tall, and continued weight gain along with his height should give him an NBA-ready frame. Still, it's what Love does with his physical assets that has college recruiters and professional scouts drooling.
"He has as polished a back-to-the-basket, post-up game as anyone I've seen in high school basketball," said Jerry Meyer, a Rivals.com national basketball recruiting expert. "Occasionally you might find a guy that's a little more explosive off the floor, but he's willing to use his body on the floor."
Pat McCarthy, the publisher of Oregonpreps.com, was also impressed by the intensity Love applied to his inside game.
"I've seen Kevin play for the past two years," McCarthy said. "And he plays with a toughness and mean streak that show he's a warrior in the paint."
If his size and work ethic weren't enough, Love has developed a set of refined post moves that call on his impressive athleticism and leave defenders overwhelmed.
"He's very coordinated," McCarthy said. "He's got a number of post moves and even uses a little hook shot occasionally."
Love's high school coach, Lake Oswego's Mark Shoff, was quick to acknowledge his skill in the post as a key to Love's, and the team's, success.
"He can play on the block very well, so he's already better than a lot of NBA high-schoolers," Shoff said. "He's not soft, and he's not going to let anyone push him around. He doesn't mind doing the dirty work, and he has moves to do it."
His shooting touch is also impressive for a player of his size, while his passing is said to be unparalleled. Shoff also attributed much of Lake Oswego's fast-break success to Love's refined passing.
"He has a terrific knack for hitting guys in stride," Shoff said. "There were times when he would drill a pass on target while he was being guarded on the break. The bottom line is that his whole game is really refined. I would say he's more advanced than 95 percent of today's college players."
However, concern has arisen about Love's physical durability. At 15, the youngster already has worn knee braces on both knees, which many have attributed to the constant pounding his joints take from his huge frame. Shoff insisted that any worries about his knees were unfounded.
"He had knee surgery in eighth grade," Shoff said. "The (Portland) Trail Blazers' former orthopedic surgeon had to remove a genetic cyst that had formed under his kneecap, but his knees are structurally fine. In fact, when they removed his cyst they also tightened up his ligaments a bit just to get them as healthy as possible."
Still, the constant double- and triple-teaming that Love is subjected to on a nightly basis may wear on his young body. In addition, even after one of the most successful freshman campaigns in Oregon state history, the toll on Love's psyche may be steeper.
Controversy has swirled around him since the end of his first season, when allegations of verbal abuse and racial remarks against former players were leveled on Shoff. The coach has strongly denied any wrongdoing, but a group of players' parents lobbied for his dismissal nonetheless.
Among the parents was Stan Love, who also reportedly handed out "Fire Shoff" bumper stickers before a game over the winter. With rumors of a possible transfer to another Portland area school or to Mater Dei High School in California, Love stepped out of the shadows to announce he would return to Lake Oswego.
The move was followed by an official statement from Stan Love, saying that his son would remain at the school, but that Shoff should still be let go.
All the distractions could be a significant setback to Love's progress, but Shoff, for one, hopes and believes that his star will be able to focus on his job on the court and separate his personal life from his athletic one.
"Kevin will come to play because he's very professional," Shoff said. "(Assistant coach) Steve Johnson has emphasized what we call the 'three Hs'. If he stays 'healthy, hungry, and humble,' the sky's the limit. He could easily be the best player to ever come out of Oregon."
Both have turned heads with their summer AAU play; Love with the Under-17 Oregon Select, and Rose with his Under-15 Chicago Ferrari.
Both stood out at top-flight national camps; Love at the Nike Elite nationals and Peach Jam, and Rose at the Nike Hoops Jamboree.
Both are already among the most heralded prospects to come out of two historically hoops-rich regions.
In the end, both Love and Rose seem to have bright futures. A scene in one of Love's recent games may be the most revealing exhibition of the pair's potential.
In an unofficial "barn-stormer" game between Oregon high schoolers and Pacific Northwest-area college players in Eugene, Ore., Love was matched up against Luke Jackson, the 2004 No. 10 draft pick out of Oregon, along with Blake Stepp (a second-round pick) and Corey Violette from Gonzaga.
While the high school team lost a close game, Love finished with 24 points, 12 rebounds and a host of blocks, including two key swats against Jackson. He also provided the game's most memorable play when he pushed Violette away to dunk home a put-back.
After the game, McCarthy reflected on the significance of Love's performance.
"If you hadn't known the players' ages or backgrounds before seeing them out there," said McCarthy, "I'd bet you'd have picked Love first or second."
At just 15, with the talent these young lions have shown, a lot of people will probably be betting that one of them will be picked first or second somewhere else in a few short years.