Long planning crucial visits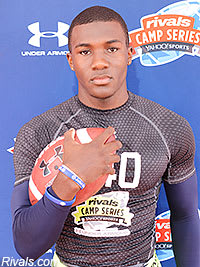 The first step for
David Long
as he wraps his head around the recruiting process was to narrow his list to a top 10.
Duke, Michigan, Notre Dame, Oklahoma, Oregon, Stanford, UCLA, USC, Washington and Wisconsin made the cut for the four-star cornerback from Los Angeles Loyola and now some unofficial trips are expected.
In the last few days, Long took an unofficial visit to Stanford, considered one of the clear favorites at this point.
"I wanted to just start focusing on the season and really start looking at the schools I would actually go to," Long said.
"So I talked to my coach, talked to my family and I've had the list for a few weeks now. I've just been waiting to release it. It's really nice. I don't want to waste anyone's time so to be able to get this top 10 out, let the coaches know where my mind is, it's a great feeling."
The Stanford trip could be crucial to Long, who also expects to visit Notre Dame before the start of his senior season. Trips over to USC and UCLA are also planned as Long works through his top group.
"I just want to see what it's like on the campus," Long said of Stanford and Notre Dame. "I know a lot about the school and what they have to offer, their rap sheet, but I want to know how it is with the players.
"There is definitely no order. I would say I have a better relationship with UCLA (than USC). I have been talking to them a lot. USC I'm planning to get there, it's really close to my school."
As for a decision timetable, Long said he doesn't want to wait all the way to National Signing Day. He also doesn't want to rush a commitment.
"I don't want to wait until signing day," Long said. "I don't want to go through all that. If I don't decide late summer then I'll take my official visits and decide during the season."