Lone Star State prospects predict Red River Showdown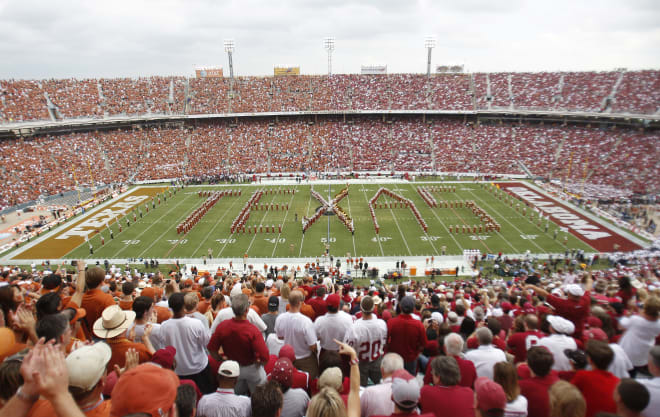 The next biggest game of the college football season takes place this Saturday when rivals Texas and Oklahoma collide. The Longhorns and Sooners go head-to-head on a good chunk of the Lone Star State's top prospects and of course, this annual conference tilt always comes with bragging rights among the recruits.
Rivals.com reached out to some of the best prospects in Texas to get their predictions on one of college football's biggest rivalries.
Prince Dorbah: "I don't want to say too much, but we're (Texas) gonna find a way to win."
Dwight McGlothern: "I have Texas winning by three points."
Xavion Alford: "42-38, Texas."
Jake Majors: "It's gonna be a high-scoring game and it'll come down to one of the defenses causing more turnovers than the other. I'm quite biased, but I have Texas, 41-38."
Davon Graham: "My prediction is that it'll be 42-21, Oklahoma."
Alfred Collins: "It's gonna be a crazy game."
Josh White: "I'm not sure on the score, but I think Texas has got them."
Akinola Ogunbiyi: "Oklahoma is blowing them out. We know this … Texas ain't back!"
Jalin Conyers: "I got Oklahoma, 52-31."
Bryson Washington: "We (Oklahoma) are not worried about this game. It should be another W in the column. We're just preparing ourselves for real competition and that's in the playoffs."
JaQwondis Burns: "I think it's going to be a high-scoring game, so 45-52, Texas wins it."
Jaden Hullaby: "48-45, Texas."
Brian Darby: "I feel like Oklahoma is going to win big, so 42-21 the final score. I feel like we have something to prove."
Nate Anderson: "So excited for this game! After watching Oklahoma play this season so far, I have no doubt they are ready for anything coming their way. They seem to click very well this year and they are about to go and kill it."
Michael Henderson: "Oklahoma 50-plus, Texas 35."
Darius Snow: "40-28, Oklahoma. I'm forever rooting for Jalen Hurts and Trejan Bridges."
Kitan Crawford: "Texas is gonna win fa sho!"
Tommy Brockermeyer: "It's gonna be a great game. Both offenses are elite this year, so it's gonna be whoever's defense that steps up and stops the offenses first. Final score: 42-38, Texas."
James Brockermeyer: "We are going to be at the game and we're looking forward to it. I've got Texas, 48-45, in a nailbiter. Both teams are extremely good with lots of talent."
Brennon Scott: "I got Texas. They're the overall better team coming in. I got Texas winning by at least two scores."
Alec Bryant: "I've got Oklahoma."
JD Coffey: "It will be a great game. Both teams are thriving and are very well-coached, so it will be a fun game to watch."
Cody Jackson: "Just ready to watch Oklahoma do what they do. Oklahoma, 42-35."
Cullen Montgomery: "Personally, I think Oklahoma is going to dominate up front, but Texas has confidence. It's a game that can possibly go into overtime."
Tunmise Adeleye: "My thoughts are Oklahoma's improvements defensively coupled with their electric offense gives them the edge over Texas this upcoming weekend: 45-28, Oklahoma."
Jalen Milroe: "I'll be at the game as well. I think the score will be 41-31, Texas."
Landon Jackson: "I feel like it will be a really good game as always and I, honestly, really don't have a prediction. I feel like the game could go either way."
Latrell McCutchin: "It's gonna be a great, hard-fought game that could easily go either way. If I wasn't on crutches I'd be there! I can't wait to watch this exciting game on TV next weekend. In my opinion, it'll be the best game all year so far."
Garrett Nussmeier: "I think that it will be a high-scoring shootout. I think that (Jalen) Hurts will play out of his mind and Oklahoma will come out with a win. I'd say it's gonna be 49-42 or something like that."
Dematrius Davis Jr.: "Oklahoma 49, Texas, 38."
Latrell Neville: "I got Oklahoma winning, 42-26."
Hayden Conner: "I'm extremely excited to go to my first Red River Rivalry this weekend and experience an amazing atmosphere. It will, of course be a close game but Texas will come out on top and prove that they are back and ready to take the next step toward the College Football Playoff."
Bryce Foster: "38-49, someone wins!"
Kendrick Blackshire: "I think Oklahoma is gonna come out with the win, but it's gonna be a tough game."
Clayton Smith: "That's gonna be a good game. I personally feel like if Jalen (Hurts) gets off to a good start, Oklahoma will pull it off. But if Texas' defense gets going early, Sam (Ehlinger) is gonna put it away. And Oklahoma's defense has to shut down Texas early or Sam is gonna have a field day."
Derrick Harris Jr.: "It's going to be a tough battle for the Texas secondary, but I think after last week's game, they're going to have a bunch of momentum coming from that game. Texas wins in a close game."
Theodore Knox: "I've got Texas, 35-30."
Jordon Thomas: "Texas, their defense is superb. I don't think their wide receivers are ready for DBU; also the defensive line is going to be on fire. Malcom Roach is going to get three or more sacks and the offense will move the ball with Sam (Ehlinger) at quarterback. I feel it's going to be 42-25. I'm not going to lie, that big quarterback will throw the ball as well."
Bryce Anderson: "I'm going with Texas, 39-32. Texas has been playing at a very high level lately after the loss to LSU. Their offense is rolling and I'm looking forward to watching."
Reuben Fatheree: "Can't call the score, but it should definitely be a great game. They are always good games and actually, I don't see this one being any different."
Donovan Jackson: "I think Texas will win this round, 42-35."
Emeka Megwa: "I know it's gonna be a close one."
Donovan Green: "Don't really know who will win. Two great teams playing at a high level right now. I really like Texas, but Oklahoma is growing on me tough. It'll be a shootout for sure and a high-scoring game."
Brandon Campbell: "I think it's going to be a tight one, though I don't think any team will really break away. I feel like it's going to come down to the last couple of possessions."
LJ Johnson: "I think it's going to be a really good match-up and it's going to be a four-quarter game, but I think Oklahoma will win, 48-40."