Logjams at QB not scaring top prospects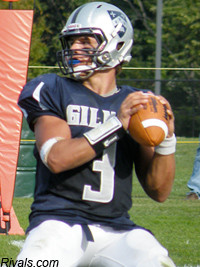 This type of logjam at the quarterback has historically not worked out for at least one player in the mix, leading to transfers. But Hill believes he has the talent to avoid ending his career somewhere other than College Station.
"All of those guys being there and Johnny playing so well right now motivates me," Hill said. "It will play itself out, but I don't plan on being the odd man out. I am all Aggie."
Rivals.com national recruiting analyst Mike Farrell said that despite the success of Southlake Carroll -- and the talent of Hill -- this is not an ideal situation for anyone to enter.
"Going into a program where you are one of two quarterbacks in the same class is always going to be a problem, because only one guy is going to play," he said. "Adding into the mix that there is a redshirt freshman starting and a talented kid already on the bench likely means either Hill or Stewart, or Davis really, will transfer. It is just a matter of whom or how many, not if and when."
History suggests that Farrell is correct.
"We have a couple quarterbacks committed already," Sumlin said.
Sumlin is in his first year as the head coach at Texas A&M after taking the job in December of 2011. He inherited the commitment of Stewart, who chose the Aggies in July of 2011, and was active in the landing of Hill who declared his intention to play for the program in late April of this year.
"We didn't name (Manziel) the starter until two weeks before the season," Sumlin said. "He is nowhere near where he needs to be, and once people get a look at him and diagnose what he is able to do they will adjust. You get a good look at your weaknesses then.
"Competition is a coach's best friend."
The Texas A&M commits are not the only ones who will arrive in college to find plenty of it.
"The quarterback commitment cycle is just too early to account for this stuff, and it is hard on the next class, without a doubt," he said. "A lot of these guys are being pressured to commit right after spring ball and way before summer camps break, so they won't really know the situation they are entering. By the time Manziel or Hills come onto the scene, guys are committed. And they can't go anywhere else, because all the other spots are filled.
"It is just the nature of that position and the process that makes it hard on everyone."
"I am ready to compete," he said. "My job is to try to take Terp Nation to the next level."
"(Perry) has come a long way since the first game," Edsall said. "He knows he needs to keep improving."
"That is the thing with our program," he said. "It is a competition. I have always been a guy that believes the thing to do is play the best guy.
"I hope people want to come in to compete, and if they don't then they probably aren't guys you want in your program anyway."
Farrell said that competition is something that good players do not shy away from and that Cockerille certainly fits the bill of a fighter.
"Shane is super competitive," Farrell said. "There is no way he is looking around or backing down.
"It isn't just limited to (Cockerille or Hill) in that respect. If you are going to back out because of a freshman quarterback then you are probably just afraid to compete."
Whether the players are ready to compete or not can still be a secondary concern to the spacing of the players in class after class.
"You are obviously looking to keep good players coming into your program," Farrell said. "You just want to make sure they are spread out to keep yourself protected from gaps."
Whether the Texas A&M quarterbacks are able to buck the trend is yet to be determined. But one way or the other, Sumlin says the Aggies' situation is not guaranteed to play out the same way as others have.
"This isn't Georgia or Notre Dame," he said.
But for Kenny Hill, it won't be Southlake Carroll, either.

[rl]