Local lineman picks Duke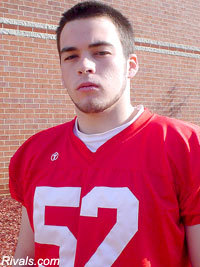 Offensive tackle
Perry Simmons
out of Raleigh (N.C.) Sanderson made his pledge earlier this weekend. The 6-foot-5, 240-pounder selected the ACC over offers from East Carolina, Navy and Western Carolina along with interest from North Carolina State, Virginia Tech and Virginia.
"After going through all these summer camps and seeing all these teams staffs," he said. "I realized Duke fit me best. They have everything I'm looking for. You can't beat the education. They are one of two top ten schools in the country that can offer Division I scholarships.
"I'm really comfortable with the coaching staff. I like the coaches recruiting me including Coach Cutcliffe. He's a top-notch coach. I also like how they made a commitment to football and want to win. I've been part of a building program in high school and I'm excited about another building team at Duke. I look forward to being apart of that."
Simmons went on about his decision.
"My camp there was the most intense camp I had been to," he said. "The coaches are very personable off the field and really fun to work with. I enjoyed my time there. I enjoy the coaching style of the staff and they fit me.
"The education was important. I'm hoping to enroll in the engineering school. I'm looking at civil and environmental engineering. That's a very big part for me, it's almost impossible to pass up that education. Plus, the location is really close to home. They had all the factors I needed in place."
The local lineman confirmed the decision was a bit of a surprise to him as well.
"This time last year I would have never thought I'd look at Duke, but the education is impossible to pass up and they have made a commitment to the football team."