LB Poly WR names top three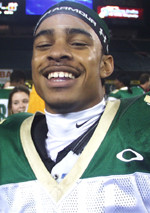 Despite losing the top receiver in the West region last year in DeSean Jackson, we don't feel Long Beach Poly (Calif.) will skip a beat in the passing game next season. The Jackrabbits are always loaded at receiver and next year,
Terrence Austin
will be one of the top players in the state.
Austin, 6-0, 160 pounds had a solid junior season catching 29 balls for 465 yards and four touchdowns to earn all-league, all-CIF and 1st team all-state Underclass honors. We first saw Austin at the Nike 7 on 7 passing championship a year ago and was very impressive showing great separation speed and sure hands to boot.
Austin excels in track as well and he and his Poly teammates left earlier today for New York to participate in the national indoor championships.
"I'll be running in the 110H, high jump and long jump," Austin said. "My sophomore year, I had personal bests of 6'8" in the high jump, 23'0" in the long jump and 14.70 in the hurdles. I definitely want to do track in college as well as play football."
Austin attended UCLA's Junior Day this past Saturday and like the rest of his teammates who attended, raved about the visit and specifically the campus.
"They have the nicest campus I've seen," Austin said. "We watched the practice and then toured the campus and met with our position coach. I talked with Coach Babers for a long time and like him a lot. He told me they're looking for a game breaker and feels I could be that guy. He said they already have a lot of guys who catch well and are possession type guys but they want someone who can go deep and they like that about me.
"He said they have room for two more receivers but I didn't ask him where I'm at on his list. I heard they got a commitment from a receiver during Junior Day (Domonique Johnson) so I don't know if they have two more left or just one now that they have a commitment from a receiver already.
"In addition to UCLA, I'm also going to go to Junior Days at USC and Cal and will take an unofficial visit to Oregon in June. I'm open right now but do have a top three of Cal, UCLA and USC. I've talked to Cal's receiver coach, Eric Kiesau a couple of times and like him a lot, he's a good guy. USC is a great program and I want to play for a winning program so that's why they're really high on my list.
"I'm in no hurry to commit anywhere right now. I want to take at least two or three trips before I make a decision. I'm looking for a school that has the best balance of academics and football and I would also love to play as a true freshman if possible."
Austin took the ACT in February and is waiting his results. He said he also plans to take the SAT in May.