LB Poly WR lands first offer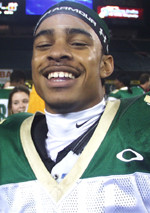 We knew it wouldn't take long for Long Beach Poly (Calif.) wide out
Terrence Austin
to pick up his first scholarship offer. Sure enough, the two sport standout has one under his belt and we're guessing there are many more to follow.
Austin 6-0, 170 pounds is one of the top five wide outs in the state and is also a standout in track. In fact, Austin just compete in the indoor national championships in New York and won the Pentathlon competition. The athlete will double sport in college.
Austin attended UCLA's Junior Day a few weeks ago and the Bruins offered the receiver just a short time later.
"I was very excited to get my first offer from UCLA," Austin said. "I really liked Junior Day a lot and UCLA is definitely high on my list. I know a lot of people there and felt very comfortable with the players and coaches.
"I'm not planning to commit early anywhere though. I want to go through the process and look at a few more schools. I'm going to USC's Junior Day this Sunday and I'm hoping to go to Cal's as well. Those are my top three schools right now and I would put Oregon and Stanford in my top five as well."
Austin has personal bests of 14.70 in the 110 hurdles, 6'8" in the high jump and 23'0" in the long jump. He'll attend the Nike Camp at USC later this month but is unsure about the rest of his summer camp plans.