LB Payton Wilson visits N.C. State again & is planning more official visits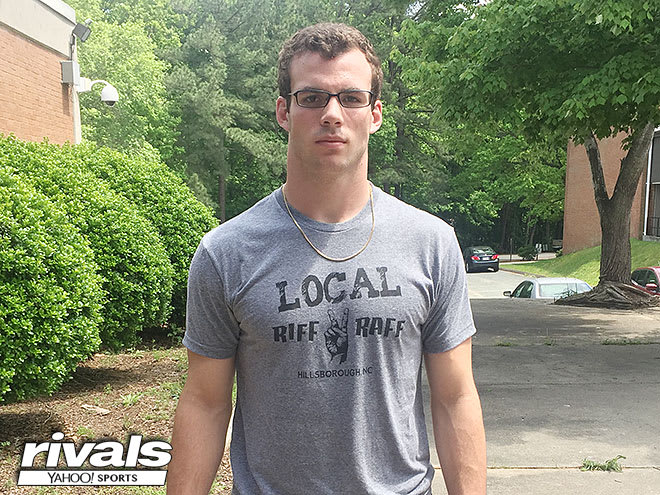 Rivals250 linebacker Payton Wilson is back on the market again after decommitting from North Carolina last week. The Hillsborough (N.C.) Orange County star is recovering from knee surgery but that hasn't slowed his recruitment. Wilson made the short to trip to N.C. State over the weekend for the annual rivalry game against the Tar Heels.
IN HIS OWN WORDS…
"My decommitment from North Carolina didn't have anything to do with football," Wilson said. "I feel like I don't fit in very well with the school. I feel like it's not a great fit for me and my family to be at that school. I didn't fit in well with the general population at the school."
On his interest in N.C. State: "Coach Hux and coach Doeren, honestly, they are great people and I love them more as coaches," he said. "I feel like they can develop me to be the best person I can be for college or, hopefully, the next level. I do really fit in well with the school and the people. I feel like I fit in well with the players too.
"One thing that really intrigues me is the atmosphere," said Wilson. "It's the best you're going to get on the east coast. They pack the stadium if they are playing a D-II school or if they're playing Clemson. The atmosphere is insane. N.C. State is known for their run defense and I really love that.
On his interest in Notre Dame: "My Notre Dame visit was a cool experience," he said. "It was very different. Notre Dame is unique and you don't really find anything like that anywhere else. It's a Catholic school and they are very faith-based so I like that. Just like N.C. State, the fans pack the stadium. They've had so many consecutive sell-outs. You are going to get a good atmosphere whether it's rain or shine.
"Coach Lea and coach Elko were some of the first guys to recruit me when they were at Wake Forest," Wilson said. "It means they have been interested in me the whole time, not just when I got big and they just jumped in when other schools started offering. I have a great relationship with them. Coach Lea is not only a great coach but one of the best people you will ever meet. Coach Elko is the same way. They just care about you as a person more than anything."
On his interest in Clemson: "I've had interest in Clemson for a long time," he said. "They are great people and since I've opened up my recruitment I've kind of gone back to the people that I had great interest in. They have a lot to offer at Clemson. Coach Caldwell and coach Venables call and text me a lot and I think that means a lot that they've kept in touch over time. It does mean a lot to me. I don't have a visit planned yet but I'll probably get one planned. It'll be an official visit sometime in the next few weeks. I'm an early enrollee so it'll be in December."
On his interest in Ohio State: "For Ohio State, I'll be taking an official visit there too," said Wilson. "I just need to set up the date. There aren't many teams that can compete for a National Championship every year. When you go to Ohio State you are practicing against the best every day so you are going to become the best you can be. Coach Meyer is really working hard on me. He calls me and texts me a lot. Coach Davis, the linebackers coach, does the same thing as well. We all have really good relationships. Ohio State has kind of developed as 'LBU' you could say with the talent they've had at the linebacker position and throughout the program really. That's kind of a driving force as well. It'll probably be the last weekend before the dead period that I visit Ohio State because they'll be so busy before then and I want to spend a lot of time with them."
On his recovery from knee surgery: "Everything with my knee feels really good," he said. "The doctor is saying I'm well above the learning curve and I'm already walking on it after having surgery two weeks ago. There isn't much swelling anymore either so that's good news. I'm aiming to be all the way back in May but I don't want to push it and have to miss the season because I pushed it too hard."
RIVALS' REACTION
Losing Wilson's commitment was a big blow to North Carolina because they need to reload at linebacker and Hillsborough is just a short drive up the road. N.C. State is the clear leader to get Wilson's commitment because he has the strongest relationships there and has visited the Raleigh campus more than any other school. Notre Dame really wowed him and they it's obvious the Fighting Irish made a great impression on him. At this point it sounds like Wilson feels like he will be a better fit at N.C. State.
Wilson's official visits to Ohio State and Clemson could change a lot. He has longstanding relationships at both schools but it is a matter of getting on campus and getting more of a feel for the schools themselves. He has a lot to figure out in just a few weeks because he will sign in the early signing period (Dec. 20-22).