LB Bowman headed out of state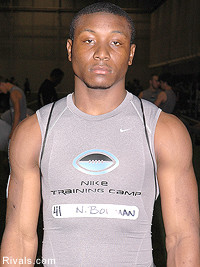 Linebacker
Navorro Bowman
has allowed his coach to handle much of his recruiting which has resulted in little news as to who the 6-foot-0, 218-pounder is favoring heading into the fall. The Suitland, Md. star appears to have five schools now heading the top of his list.
"I would say Ohio State, Tennessee, Virginia Tech, Penn State and North Carolina are my top schools right now," he said. "I haven't had a chance to visit Ohio State yet, but I like the person recruiting me and I love the program. I've liked them for a long time and it might be a school I could play at for the next four years of my life.
"Tennessee is in a great location and I've got some family that lives around there. I would like for them to see some of my games and it's just a great place there. I know how good the program at Penn State is and it's somewhere I could see myself going that's a good distance away from home. I also like the coaches they send down to me, they are all down to earth.
"Virginia Tech is a good school and I like the program there. Everything about them is great, I like their style of play and that they have a good reputation."
The other school at the top of Bowman's list he visited just two weeks ago.
"I loved it at North Carolina," he said. "It seemed like a school I could live at for the next four years of my life and somewhere I could concentrate at."
One school surprisingly absent from his favorites is Maryland.
"Maryland is still up there at the top," he said. "Although I'm starting to feel like I want to get out of state and away from home, so that could be a problem for them."
Despite naming his top five, Bowman has no idea when he'll decide.
"I don't know if I'll wait until Signing Day or commit early," he stated. "Either way I'm planning on graduating early in December and attending school in January. I want to do that because I believe I'll have a better chance to play my first year and get settled before the other freshman come."
Last season Bowman ran for 1,250 yards and 22 touchdowns of offense and added 165 tackles, nine sacks and one interception on defense. The linebacker was named first team all-Metro and first team all-state.
Bowman should have no problem qualifying with an impressive 3.63 GPA and 990 SAT.