KU offer was emotional for Langston Wilson
If you haven't heard the name Langston Wilson, that's about to change. Despite never playing a minute of high school basketball, Wilson, the 6-foot-9, 190-pound small forward from Georgia Highlands College in Rome, Ga., has received over 40 scholarship offers.
Currently, Wilson is considering scholarship offers from Texas A&M, Maryland Eastern Shore, Kansas, Howard, Arizona State, West Virginia, Kansas State, Florida International, Georgia, Memphis, Seton Hall, Alabama, South Carolina, Penn State, Tulsa, Cleveland State, Towson, Texas Southern, La Salle, Wichita State, Mississippi Valley State, Oregon, Ole Miss, UAB, SMU, East Carolina, SIUE, VCU, North Carolina A&T, Maryland, North Carolina Central, Murray State, Norfolk State, Morgan State, Nicholls State, Troy, Cal State Bakersfield, Little Rock, Mount St, Mary's, Iona, Saint Louis, Grambling State, Miles, and Alcorn State.
So, how does one go from not playing a minute of high school basketball to one of the most heavily recruited junior college prospects in the 2021 class?
"No, I didn't play high school basketball," Langston Wilson told JayhawkSlant.com during a recent phone interview. "I just finished playing my first year of basketball at Georgia Highlands. I got in contact with Coach JJ Merritt (head coach) through Coach (Gary) Graham (Director of Smyrna Stars). I was just at an open run, so I got in contact with Coach Graham and told him my situation, because I had moved down from Atlanta with my sister. I was just down in Atlanta working.
"I had originally graduated in 2018, but I was young when I graduated," he added. "I was 17 when I graduated, so I got in contact with Coach JJ (Merritt) and they sent him the film from the open run. They showed him the highlights from the open run and then he offered me a scholarship. When I went up for a visit, I committed. The rest is kind of history."
Originally from Bonner-Prendie High School in Philadelphia, Pa., Wilson made an immediate impact during his first season of at Georgia Highlands College. In fact, for the season, he averaged 10.1 points and 7.6 rebounds per game.
Wilson, in 32 games, shot 54 percent from the field, 30.8 percent from behind the arc, and 52.4 percent from the free-throw line.
The transition from never playing organized basketball to starting his first game at Georgia Highlands College, it would appear, was a smooth one for Wilson.
"When the season first started, or during my first game, I think that I had 12 points and 10 rebounds," said Wilson. "It was an adjustment, I'm not going to lie, but the second game I ended up having 23 points and 10 rebounds. I kind of went on a pretty good streak. Then, things started to get real and a lot of things were happening that I didn't understand.
"I couldn't just rely on my athleticism, so I went to Coach JJ and asked if I could come off the bench for the rest of the year," he added. "He said okay and just brought me off the bench the rest of the year. I feel that really did a lot for me in terms of learning and being able to come off the bench and produce and bring energy off the bench.
"I never really had a problem coming off the bench," he continued. "So, all of this started with me doing well at an open run, Coach Graham reaching out to Coach JJ, me taking a visit to Georgia Highlands College and then committing during my visit."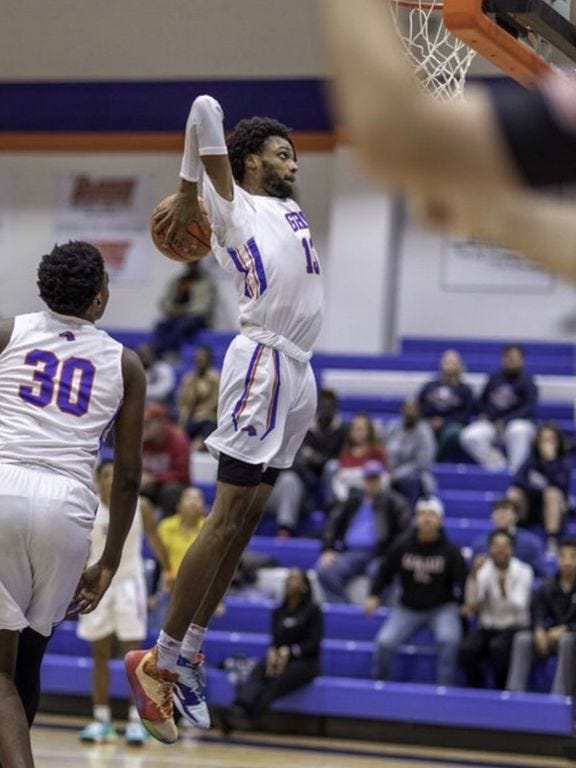 If the name Langston Wilson doesn't sound familiar after reading this article, that, without question, is about to change. Currently, he's received 44 scholarship offers from programs all across the United States. His offer list ranges from seldom heard of schools to schools that are considered high-major, big-time college basketball programs.
Wilson spent a little bit of time talking about the process with JayhawkSlant.com.
"My first big offer came from Maryland," said Wilson. "My first ever scholarship offer came during the Jamboree Season in October from Alcorn State. Coach (Evans) Davis and his staff were the first to offer me and that was huge for me, simply because I never thought that I'd be in that situation. I remember getting that call after the Jamboree and Coach JJ telling me that Alcorn State offered me. I still have great conversations with Coach Davis today.
"It was quiet, recruiting wise, the rest of the year for me," he added. "I got my second offer in January, which was from Grambling State. The first mid-major, I would say, to offer me was Saint Louis. The assistant coach that was at Saint Louis when they offered, Coach (Will) Bailey, is now at South Carolina. The biggest one I got early was Iona, just because of Coach (Rick) Pitino. The first high-major program to offer me was the University of Maryland, which happened at the end of May or early June.
"Around June, it just went crazy," he continued. "I think in one day, Wichita State, Oregon, Ole Miss, and a few others offered me. I had like five offers in one day. It was just ridiculous, and everything just started picking up, picking up, picking up, and picking up."
Late last week, Wilson got the one scholarship offer that he never envisioned receiving during his recruitment. It was a scholarship offer that forced him to sit back and reflect on his journey from then until now.
It came with much joy, happiness, and emotion. Last Thursday, Wilson received a scholarship offer from Bill Self and the University of Kansas.
"Coach (Jerrance) Howard had reached out to me and I was in shock," he said. "Coach Self had called me as we were on the phone and it was just crazy speaking to Coach Self. I still remember the conversation like it was yesterday, even though it was almost a week ago. We were talking about positions and playing on the court and I stopped him, respectfully, and told him that I just wanted to get on the floor.
"I just told Coach Self that I wanted to be able to play basketball," he added. "He had stopped me after I said that and told me that what I had said earned me a scholarship offer from Kansas. He offered me a scholarship at that point. It was just kind of crazy, because Kansas is a blue-blood school, me not playing high school basketball, and things like that.
"I was at a loss for words for a long period of time," he continued. "I called my coach and had tears in my eyes. I called my dad and I was balling and crying after the scholarship offer from Kansas. Not just because of the school itself, but also because of the level of basketball and being recognized at that level."
With so many options to consider, Wilson is very much looking forward to the opportunity of getting out and visiting, both officially and unofficially, some of the programs on his list. However, due to the coronavirus (COVID-19), he isn't sure when, if at all, that opportunity will present itself.
"If they do open things up in October or November, I want to take as many visits as possible," he said. "I want to take as many visits, both official and unofficial, as I can before I make my decision. The area of schools that are recruiting me, some of the schools are pretty close and within driving distance.
"The other schools that are a little farther, I'd like to officially visit some of those schools," he added. "I definitely want to take some visits, if things open up, God willing, but I'm not trying to base myself on that, because of the way everything is going. I'm just doing my best to make sure that I'm having good conversations with not only the head coach and the assistant coach, but the staff as a whole.
"I'm talking, conversing, and trying to get a good feel and see if what people are really saying is genuine," he continued. "So, I would really like to get out and visit as many schools as I can, but that all depends on if things open back up or not. Official and unofficial, I want to get out and visit some schools."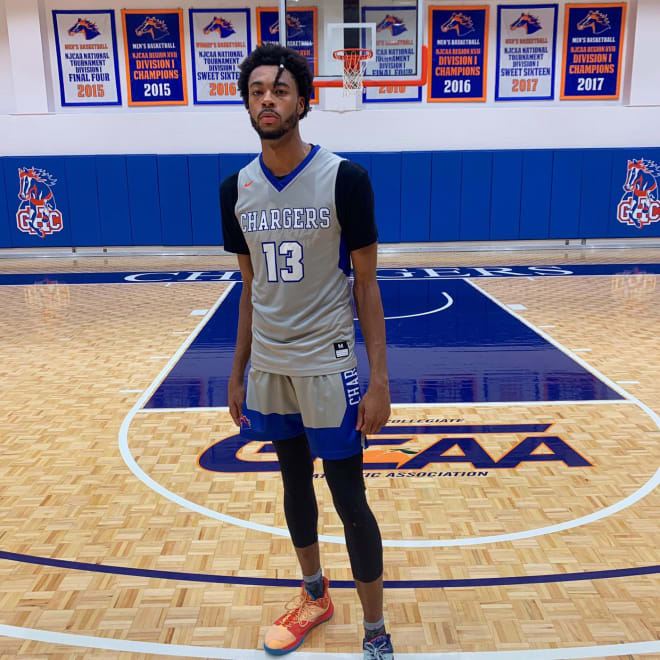 If things eventually do open back up, does Wilson intend to take an official visit to Kansas?
"It's something that I would like to do," he said. "It's just based on if things open back up or not. I actually have a Zoom call with Coach Self and the staff at 1:30 today (Wednesday)."
Before preparing for his Zoom call with Kansas, Wilson provided JayhawkSlant.com with a breakdown of his game and some of the players he models his game after at the next level.
"I feel like I'm a forward – a positionless forward that can do a bunch of different things," he said. "I can make plays off the bounce, unselfish, defensively, I can switch and guard multiple positions, I'm an energy guy and extremely athletic, and I'm the type of player that you can put in a lot of different places all over the floor."
"A lot of the NBA comparisons that I've heard and a lot of people that I like to watch and breakdown film of, definitely Brandon Ingram, just someone at my size and my weight that has a freakishly outlandish skillset. He can do a lot of different things. I also love watching Derrick Jones, who is from Chester, Pa., which is not far from where I grew up. I got the chance to watch him in high school, when he played against my high school.
"Somewhat that can, defensively, doesn't really get a lot of credit for how smart he is, being from Miami, when they go small, you can put him at the five (center)," he continued. "He can guard the five man, but can also guard and play off switches. He is extremely athletic and can knockdown shots. I also love watching Christian Wood, who is really athletic, gets to his spots, finishes above the rim, and can also knockdown open shots."